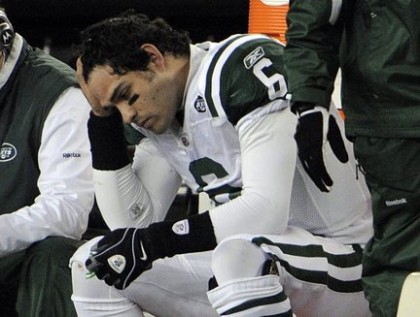 Justin Lovell, Sports Editor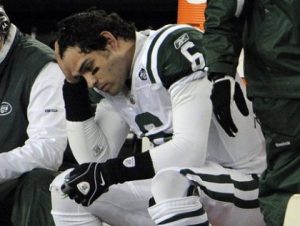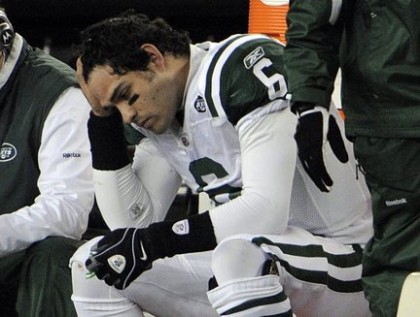 Yes the Super Bowl was just played a few weeks ago, but for football fans, it is never too early to think about next season. This statement couldn't be truer for Jets fans, who after a disappointing season were left with more questions than answers. Last season was one of the worst in Jets history and the team is now at a crossroads which could define the next decade for the team. The three biggest questions going into next season for Gang Green: is Rex Ryan the right man for the job still? What should the team do at quarterback? What to do with Darrelle Revis?
Rex Ryan will be entering his fifth season as the head coach of the Jets this upcoming year and fans wonder if he is the right choice. Following the dismal 6-10 season this year, many thought Ryan would get the boot, but he was able to retain his job. But the question is whether or not he is actually the right choice and to me he still isn't. Ryan is a great defensive coach, no question about it, but because of that, he doesn't understand offense. The NFL is such an offensive league now that defensive coaches are on the way out. In order to be successful, coaches need to know and appreciate offense and after the way he conducted the horrid Jets offensive this past year, I don't see how he can possibly be the answer for any team let alone the Jets.
The main reason the Jets offense was so bad this year though, doesn't just rest with Ryan but also with the leader of the offense, the quarterback. This past year Jets fans had to deal with Mark Sanchez, Tim Tebow and Greg McElroy at the position and in today's NFL, that just wont cut it. So the question is what should the Jets do about the QB position this upcoming season? It's a forgone conclusion that Tebow will be gone next season but what about the starter, Sanchez? He is still owed a lot of money and the Jets might feel it's necessary to start him because they are paying him so much. However, they should just cut their losses now and release Sanchez. The team as constructed now won't do anything as we saw last year, and even if they had great weapons it wouldn't matter because Sanchez just isn't that good. The Jets need to bottom out and build via the draft again with a QB, except there aren't great prospects this draft so they are in a tough spot. I say they roll the dice though with a rookie this draft regardless, either Geno Smith or Matt Barkley are QB's with much more potential than Sanchez, plus it's a nice escape route from him as well. Regardless of who the QB is though, the Jets need weapons around him otherwise they will fall into the same hole they are in with Sanchez currently.
That is why I think they should trade Revis for some more pieces. As great as he is, there is only so much you can do on your own. The Jets know this too and with his current contract situation, the Jets should sell high on him and get some quality draft picks so they can retool their weak offense around a new QB. The Redskins did it this past draft with quarterback Robert Griffin III and running back Alfred Morris, who helped them to the playoffs this past year.
The Jets will struggle for the next few seasons I expect, but should be able to turn it around if they start to rebuild this year. Following the way this season went, I think the process needs to start soon otherwise they risk losing more than just games.
Bobby Lemaire, Staff Writer
The New York Jets are coming off of a very disappointing 2012 campaign where they finished 6-10, missing the playoffs once again. They already have fired their General Manager Mike Tannenbaum, but the Jets still have plenty of questions to answer before the 2013 season begins, like what to do with Mark Sanchez?
Mark Sanchez had a horrible year, throwing 18 interceptions to only 13 touchdown passes. His worst moment of the season was the "butt fumble" against the Patriots on Thanksgiving. I do believe that Mark Sanchez is capable of being an effective starting quarterback in the NFL, just not with the Jets. Bringing in Tim Tebow last year showed how little faith that management actually had in him, lowering his confidence even more. If Sanchez can go to a new team that will have smaller media attention then in New York, I think Sanchez can go back to being a decent quarterback and taking a team to the conference title game.
Another question that needs to be addressed is what to do with Darrelle Revis? Revis' season ended early last year, due to a torn ACL in week three. When he is healthy, Revis is one of, if not the best, cornerback in the NFL. Whether or not Revis will be the same player is an important question the Jets have to consider. Regardless, it would be in the Jets best interest to trade Revis for any draft picks that they can get. This team is not close to contending to a championship and trading Revis can give the Jets a chance to obtain some young pieces, in order to plug up some gaping holes at wide receiver and quarterback.
The final question is what to do with Rex Ryan. Throughout his time as head coach of the Jets, Ryan has been very vocal on and off the field. He had early success with the team, leading the Jets to two Eastern Conference championship games. But after that, the Jets have seemed to struggle with him in charge. While his loud mouth antics seemed to be a good way to take the spotlight off his team, it is now getting ridiculous. It would probably be best for Ryan to be let go so the new General Manager can hand-pick the coach that he wants to lead the team.
Anthony Beers, Staff Writer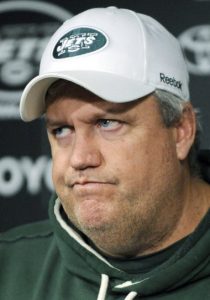 While Jets fans may complain about inadequate quarterbacks, they really have many more issues at hand. The primary issue that needs to be addressed as soon as possible for the Jets is poor offensive line play. Demands from quarterbacks in New York are high enough as it is, but if they don't have time in the pocket from the big men up front, nothing's going to get better for the Jets. The line also struggled to develop a consistent running threat and while half of that was the line's fault, the other half was a lack of depth at running back.
At this point, Shonn Greene has proven he is not an every down back (there are few running backs in the NFL who are). Keep in mind when the Jets had success under Rex Ryan's first two seasons as head coach, it was because of a consistent rushing attack that was among the best in football. The first year they had running backs Thomas Jones, Leon Washington and Shonn Greene, the following season after losing Thomas and Washington they brought in future hall of famer LaDanian Tomlinson to pair up with Greene. Both those seasons resulted in AFC Championship appearances and then this season, the Jets just had Greene, Bilal Powell and the occasional Joe McKnight at running back. That just doesn't cut it from a head coach that obviously wants to run more than he wants to pass.
Another issue with the Jets is their lack of depth at the wide receiver position. Jeremy Kerley is an admirable player and a fan favorite, but last season the 5'9" slot man led the Jets in receiving yards paired with just two touchdowns and that's serious problem. The Jets losing Santonio Holmes mid-season was obviously a crushing blow, but their lack of targets in the passing game only made things more difficult for their struggling aerial attack. Plaxico Burress had eight touchdowns in the 2011 season, but remained unsigned as a free agent this past season. Instead mid-year the Jets tried to bring back Braylon Edwards and that proved to be the wrong decision. The Jets need a consistent receiving threat that's at least over six feet tall to assist a struggling Sanchez.
Naturally, the big problem that every fan talked about was the distraction of Tim Tebow. The Jets traded for Tebow prior to the 2012 season, but showed little interest in actually playing him as a consistent member of the Jets' offense. Some fans believed the Jets should have started Tebow in the midst of their struggles, while others think that Tebow should have been included in something other than his one rush over the middle every single time he stepped on the field. Regardless, the Tebow situation was a huge distraction to a team with numerous problems and it certainly did not help Mark Sanchez who was constantly looking over his shoulder about losing the starting job. But to snub Tebow when he's healthy and start Greg McElroy? There must have been something else going on there, perhaps head coach Rex Ryan didn't agree with general manager Mike Tannebaum's decision to acquire Tebow. Tannebaum has since been fired, but for the lack of understanding of Tebow's role with the team, that problem comes from the top. Woody Johnson is to blame for the team's circus-like atmosphere and ultimate turmoil in the locker room. Both Mark Sanchez and Tim Tebow deserve more respect than they've received from the Jets and from their fans this past season.