Anita Bernardi, Contributing Writer, Study Abroad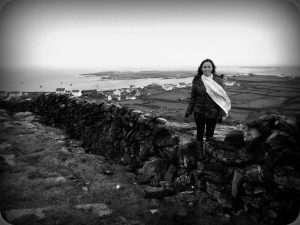 I miss the crimson sunset that settles over the mountains, irradiating Galway Bay, the pungent smell of Pete moss that lingers through the air after a mid-morning rain. I miss the echoing sound of traditional music that illuminates the streets and pubs day and night, and the frothy mustaches I'd wear after a mouthful of rich, prematurely settled Guinness. I even miss the paralyzing wind and rain that left you colder, wetter and more disoriented than enduring Paul Bunyan's Bucket Brigade at the Great Escape. Aside from the aesthetic wonders any trip abroad beholds, the true experience of traveling however, comes from immersing yourself in a culture and its people. What I miss most about Ireland is the warm and welcoming smiles of all the friends and acquaintances I made during my semester abroad in the most charming city in the world, Galway.
Around this time last year I was sitting at my kitchen table, stuffing my face with donuts, trying to suppress the fear of leaving my friends and social life behind for a whole semester. I didn't want to miss a single event, inside joke or shameless trip to Tino's with the people and places I had grown to love throughout the past three years of college. Fortunately, that fear vanished the moment I stepped off the poorly ventilated shuttle bus into the enchanting city where I'd reside for the next five months. I fell in love with the colorful store fronts and cobblestone streets that seemed to welcome me like an old friend. I loved the intricate architecture of the century old pubs which transported me back to the times of James Joyce and Oscar Wilde. What I loved most of all was the endearing people who added such a benevolence and vibrancy to their already delightful city.
While the Irish are renowned for their warmth and hospitality, I was amazed at how quickly I was embraced by a group of people who knew nothing about me. After a week of being there, I amassed more Irish friends than I could comfortably admit to having at home. The Irish loved asking questions and learning about American pastimes, mostly because their only concept of us is based off of HBO shows and reruns of "How I Met Your Mother." They were so intrigued and eager to learn about our culture, almost as much as I was to learn about theirs. With this diffusion and intertwining of our customs and traditions, I developed friendships stronger and more profound in those few months than ones I had formed throughout my entire life. I taught them about American football and the delightfulness of a PB&J sandwich or mac 'n cheese. They introduced me to rashers, hurling and all their wonderfully unique traditions. While I'm still weaning myself off my new unhealthy addiction to full fat milk and Cadbury chocolates, I've gained more knowledge about myself and the world through studying abroad than I have accrued after three years of college. Meeting these people and being a part of their culture has renewed my sense of faith in humanity and all the wonderful people in this world I have yet to meet.