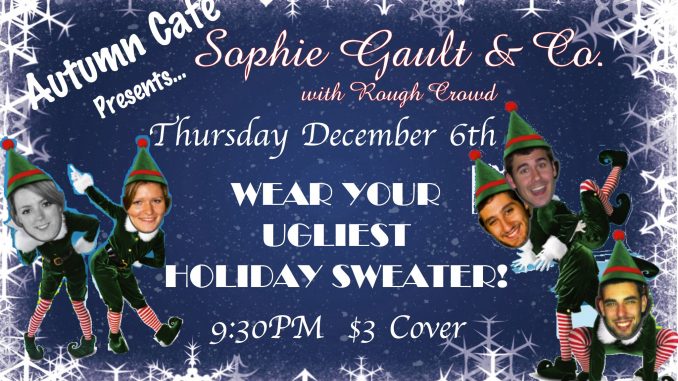 Kate Koenig, Editor-in-Chief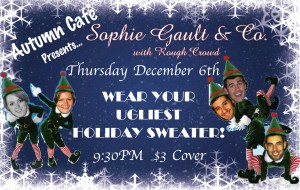 This Thursday night at the Autumn Cafe, Sophie Gault & Co. is hosting an ugly sweater party, in the spirit of the impending holidays. The show is to start at 10 p.m., and has a $3 cover charge at the door.
Sophie Gault & Co. is an Americana/roots rock group built from SUNY Oneonta students Gault, Sam Schiff and Ryan Quinn that started up in January of this year. Since then they've done some modest touring, and have played Paulie's in Albany, the Triumph Brewing Company in Philadelphia, and locally, the Black Oak, the Oneonta Theatre and the Autumn on a monthly basis.
Sophie's been writing her own music since around 2008, when she was still in high school. She draws influence from Justin Townes Earle, Lucinda Williams, Neil Young and the likes. Her first experience in the professional music world was with the Spectacular Average Boys, founded by local and Oneonta alum Ned Brower, who she's been playing with since fall of last year. As a solo performer, she opened for the indie/roots rock Hoots and Hellmouth when they played at the Oak in 2011.
The opening act, Rough Crowd, is a soul act that's been on the bill with Sophie & Co. for nearly every one of their monthly shows at the Autumn. Made up of Quinn, Amanda Silecchio and Jay Mongiello, the show will be a sendoff party for Mongiello, who's graduating this December.
Sophie recommends stopping at the Salvation Army if your ugly sweater collection is in short supply. Be sure to don an ugly, wooly, holiday sweater and head on down to the Autumn this Thursday for an end-of-semester folk rock bash!