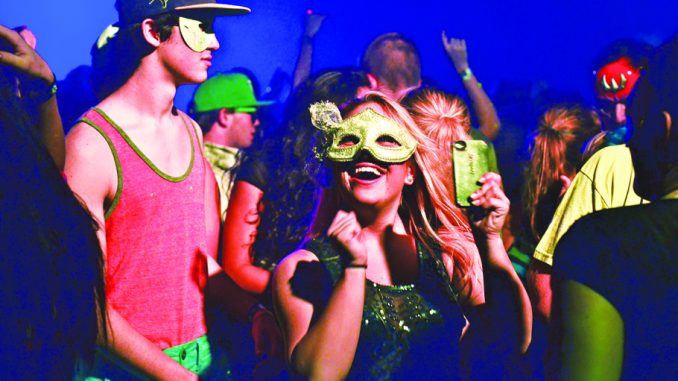 Sara Buturla, Contributing Writer
On Thursday, October 11, 2012, Oneonta was introduced to Masquerave, a five-hour Electric Dance Music event held at the Oneonta Theatre. It was brought to Oneonta by U Is Nation and Avid Entertainment. Masquerave first got noticed around Oneonta back in April of 2012 when Masquerave hosted its first show ever, in Albany, at The Washington Avenue Armory. This time around, the small but powerful EDM show is on the "Masquerave Fall City Tour" which included a mid-September show that played in Poughkeepsie, New York. Shows that are coming up include October 13, at Webster Hall in New York City, as well as a return to the Washington Avenue Armory on October 26.
In attendance were students of both colleges, SUNY Oneonta as well Hartwick. When you looked around you got a sense of the atmosphere U Is Nation as well as Avid Entertainment were setting up for. Neon colors and various masks lit up the room as you walked into the old fashioned theatre. The dance floor was located in between the classic theatre seating and a large stage with the biggest screen in central New York displaying graphics throughout the show. Crowds of people danced the night away to some of their favorite EDM hits as well as some of the DJ's own personal songs.
The line-up for the night went as follows: the show kicked off with DJ Fesco, who got the show going. Next was Aire Atlantica who truly turned up the show with some of his very own original mixes. The real crowd grasper was none other than DJ Miser who completely changed the mood with mixes from well-known EDM artists such as "Deadmau5," "Knife Party" and many more. He even threw in his own dubstep remix of "Wonderwall" by Oasis. To end the show was a DJ known as Kido who did a great job of wrapping the night up.
According to SUNY Oneonta junior Kyle Nonnon, "Masquerave was a fun night out, different from the normal weekend." The use of Facebook, as well as posters and flyers to get the word out, truly helped to make Masquerave such a hit. It was definitely worth the ten dollars for a night a little different than usual in Oneonta. The possibility of round two in town seems likely.