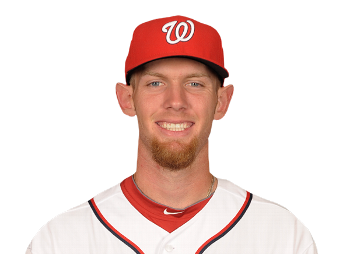 Anthony Beers, Staff Writer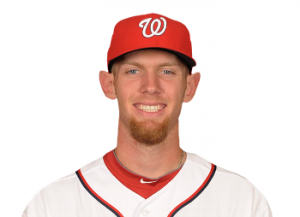 The Washington Nationals are in first place in the National League East with a dominant record and are currently the best team in baseball. A big part of their success has been from their ace pitcher Stephen Strasburg, so it came as a bit of a shock to the baseball world that Strasburg will be shut down for the remainder of the 2012 season.
Strasburg was drafted first overall by the Nationals in 2009 as one of the most highly coveted pitchers in baseball. He made his debut for the Nationals after being called up in June 2010 at age 21. With a pitching repertoire that consists of a 98 mph fastball, an 87 mph changeup, and an 82 mph curveball, baseball fans were rightfully excited to see what Strasburg could do in the majors. But early in his career, he struggled with staying healthy. Towards the end of his rookie season, Strasburg suffered from torn ulnar collateral ligament damage that required Tommy John surgery. After a lot of rehab Strasburg eventually returned to start five games in the 2011 season.
This season, however, was a different story. Strasburg had an all-star season with a 15-6 record, a 3.16 ERA, and a ridiculous total of 197 strikeouts, which is second in the National League tied with Mets knuckleballer R.A. Dickey. So with Nationals manager Davey Johnson deciding to sit down Stephen Strasburg, baseball fans have every right to be confused. What is most alarming is that this is the first season in the Nationals existence that they have had a winning team.
The reasoning for the Nationals decision on Strasburg is purely a concern for his health and his career in the long run. Supposedly, there had been a set number of innings that the Nationals felt should be a limit for Strasburg's season. A limit that was discussed with Johnson and general manager Mike Rizzo. The limit, however, was never clear to baseball fans or Strasburg. Not to mention it was probably determined before the Nationals great success this season. Had the Nationals been the same ol' Nationals, this wouldn't even be news. But we're talking about a team that has absolutely dominated any competition since day one and can be a serious threat in this year's pennant race.
Strasburg has handled the news maturely and merely said, "It's about the team" when reporters have attempted to question him. Naturally he is discouraged to be losing playing time, and to have to watch his team in the playoffs on the bench. Supposedly the Nationals had made it clear all year that due to his health concerns, Strasburg would be on a short leash.
However, it was recently announced that Strasburg's surgeon Dr. Lewis Yocum said "he was not asked" if Strasburg should be healthy enough to continue pitching or if there was a high injury risk. Rizzo decided to do the same thing for Strasburg as he did for Nationals starting pitcher Jordan Zimmerman. Zimmerman suffered from the same injury, and last year he was limited to 160 innings. This year Zimmerman has pitched well. Rizzo is simply doing what he thinks is best for his young pitchers.
To know if this was a smart decision will remain to be seen. The Nationals still have an incredible baseball team and have a great chance in the post season. But whatever success they have will be without the ace that helped get them there.