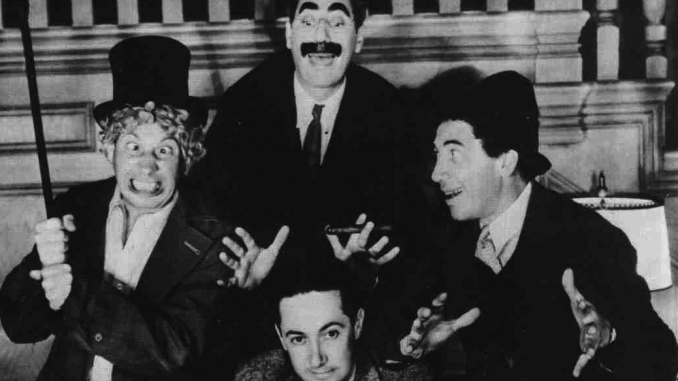 Kate Koenig, Editor-in-Chief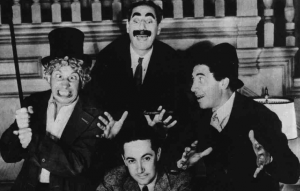 There once was what many consider to be a "golden age" of comedy—what comes to mind? Many might think of the movies put out by the "frat pack": Vince Vaughn, Ben Stiller, Owen Wilson and anything that came out in the past decade or so. And while "The Hangover" and "Pineapple Express" hold their own weight in today's comedy arena, the golden age of comedy originally existed in the silent film era of the 1920s. By the 30s, it was the age when "talkies" were just becoming globally recognized.
By the time "talkies" were in full swing, Charlie Chaplin was a headlining name; so were the Three Stooges, Laurel and Hardy, and of course, the Marx Brothers. The Marx Brothers were a group of five brothers who were born in the early 20th century to a couple in New York City. Although they're most commonly known by their stage names, Groucho, Chico, Harpo, Zeppo and Gummo, they originally were given some more serious ones: Julius, Leonard, Adolph, Milton and Herbert. Their mother Minnie devoted herself to teaching them all the ways of show business, since her plan was to one day see each one of them on stage.
In the 20s, before movies were mainstream, the forum to see was vaudeville. Vaudeville hosted variety acts of all kinds, and the Marx Brothers saw their first glimpses of fame touring from town to town to do comedy routines and sleep in sketchy parasite-infested motels. Their mother was their tour manager from day one, and eventually drove them into film. By the 30s they'd adapted many of their classic comedy routines to movie scripts, and while they were known to have improvised frequently on set, these ideas became the center of many of their plots.
They came out with a few silent films, but their first "talkie" was "The Cocoanuts" in 1929. Then came a slew of what we now regard as classic: "Animal Crackers" in 1930, "Monkey Business" a year later, and subsequently came "Horse Feathers" and "Duck Soup." Even still, their popularity continued with "A Night at the Opera" in '35, "A Day at the Races" and "Room Service" by '38, and "At the Circus" in '39.
Though you may come across people quoting Groucho—"I'd like to join the club, and beat you over the head with it!" or "I've had a wonderful time, but this wasn't it!"—or behaving like Harpo, who always mimed his goofiness, what may not be common knowledge is that a few of the brothers were practiced musicians. Harpo regularly played the harp in Marx Brothers movies, and although he was self-taught, his technique reached a classical level. Chico, although he was more often seen gambling in regular life, was highly trained on the piano. If you happen to catch a scene of them playing music in their movies, guaranteed the music was performed by them and not simply over-dubbed.
Groucho's wit was constantly ambushing audiences with irony-laden humor, and Chico's antics combined with Harpo's absurd facial expressions were enough to have people rolling in the aisles from laughter. Our sense of humor as a country has changed, of course, but there's still a spark to be found in their strongest screenplays. If you would like to spend some of your time seeing rare and unique comedic wit, get yourself a copy of "Duck Soup," "Monkey Business" or "A Night at the Opera," and be prepared for a glimpse back into the "talkie" film era that tailed the golden age of silent films.