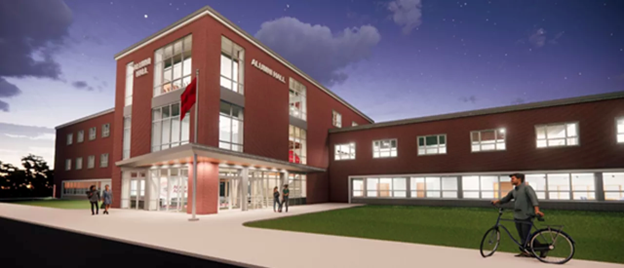 Brandon So, Staff Writer |
If you've been on campus for the past two years, then chances are you've seen the construction near Hulbert Hall. Over the past two years, SUNY Oneonta has been renovating Alumni Hall. However, it appears to be coming to an end, as contractors begin to cement the final touches on the building.
The original Alumni Hall was created in 1959 with its original purpose serving as the campus library. According to SUNY Oneonta's renovation policy, they must renovate structures on campus when they become about 50 to 60 years old.
When Alumni Hall reopens, it will become the home of the Department of Economics, Finance and Accounting, Management, Marketing and Information Systems, Political Science, and the Division of University Advancement. In addition to the departments, Alumni Hall will serve as a space for alumni to call home. It will include a lounge and reception area for all alumni, and a meeting space for the SUNY Oneonta Foundation and Alumni Association Boards of Directors. It will be a place for graduates to meet with fellow Red Dragons or a place to enjoy a quiet moment while visiting campus. There will be a mix of office spaces, classrooms, and facilities for the academic departments on the first floor.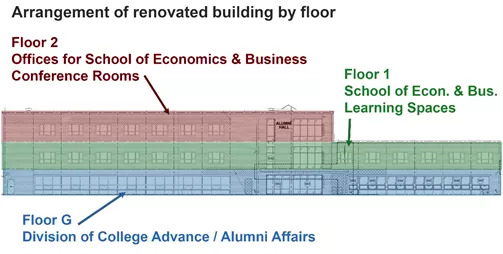 Featured on SUNY Oneonta's website, there are multiple photos detailing the upcoming project. The renovation brings excitement as SUNY Oneonta is finally getting more updated classrooms and facilities. More specifically the Business Department! Featured in the concept art below is an image detailing a portion of the Business Department. The image displays state-of-the-art classrooms, furnishings, and even screens wrapped around a room displaying stock tickers and their prices.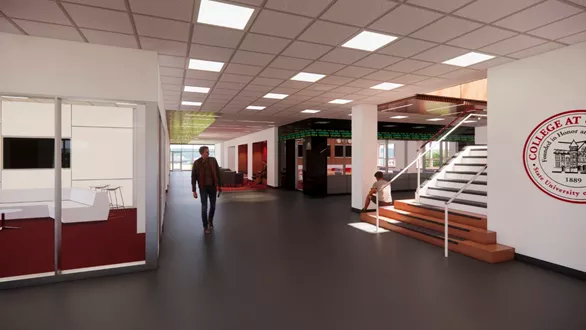 Another interesting feature of the renovation is the technology that is being used to support the architecture. According to SUNY Oneonta, Alumni Hall will use an entirely different technology than other buildings on campus. Known popularly as "Geothermal" or "GeoExchange", this is an array of wells adjacent to the building that will allow the use of the earth's ambient thermal energy as a source of heat for the building. The building will also employ a heat recovery system, like the Emergency Services Building, that transfers heat in and out of exterior air that is drawn into and exhausted from the building. This is a significant energy conservation measure that allows the introduction of fresh air into a thermally tight building while minimizing the loss of primary heating and cooling effort. These and other features are part of SUNY Oneonta's Energy Master Plan. For the campus community, the re-opening of Alumni Hall serves as a new beginning for students and faculty alike. Students can explore new areas on campus and interact with some of the new features in the building, while faculty can move into their new offices and begin educating the next generation in a newly renovated and fully equipped, Alumni Hall.