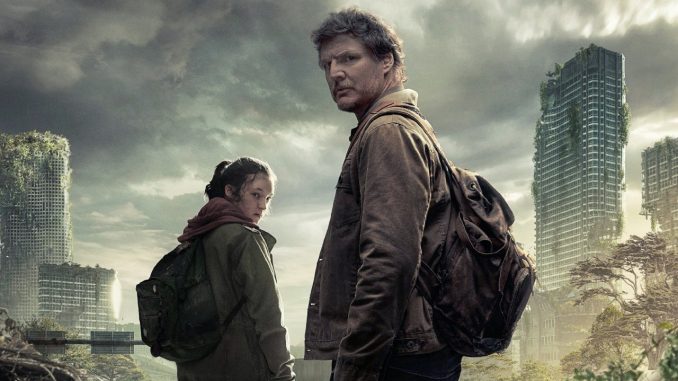 Chris Milazzo | Staff Writer
The Last of Us, starring Pedro Pascal (Joel) and Bella Ramsey (Ellie), is being praised for its ongoing representation of LGBTQ+ characters. One of the main characters, Ellie, identifies as lesbian. In the show, Ellie is portrayed as a tough and defiant character. Ellie is being forced to travel across the country with Joel, played by Pascal, as she is immune to the disease that wiped out the majority of the world's population, Doctors want to use Ellie's immunity to create a vaccine to restore humanity.
Ellie's character is lesbian and that is shown in episode seven "Left Behind", where Ellie starts to reminisce. The show flashes back to her memories of her old best friend, Riley. They both spent time together in an abandoned mall. Throughout the whole episode, you can feel the tension between the two and the chemistry they share. You can tell that they both equally care about each other. The episode shows them having one of the best days of their lives, and toward the end, you see the two share a kiss. However, this is sadly short-lived, as Riley becomes infected and Ellie must leave her.
Another example of representation in the show would be in episode three, "Long, Long Time". This episode focuses mainly on two side characters, Bill and Frank. Bill, played by Nick Offerman, is a man who prefers solitude until he meets Frank, played by Murray Bartlett. Frank approaches Bill in distress and is hoping he won't kill him and let him go. Bill decides to let him out and feeds him some food and lets him get washed up. As the episode progresses, you see the two open up to each other. You see the two characters fall in love from start to finish. The two characters show what falling in love with someone is like and how they both sometimes clash and don't get along. But, in the end, you can see that they both love and appreciate each other.
After this episode premiered, it was met with rave criticism and praise for its writing, performances, and representation. The show was able to pull heartstrings from all the viewers and made viewers feel immersed in the story. Despite all the praise for it, it was still met with criticism from lots of homophobic fans of the show. Many people are criticizing the episode on IMDB and bringing the overall rating down. This criticism isn't stopping or bringing down the show's cast as they decided to look past this. Ramsey said "I know people will think what they want to think. But they're going to have to get used to it. If you don't want to watch the show because it has gay storylines and a trans character, that's on you, and you're missing out." The show has been doing exceptionally well and garners millions of viewers every week when it premieres. The final episode of this series airs this Sunday at 9 pm on HBO max.