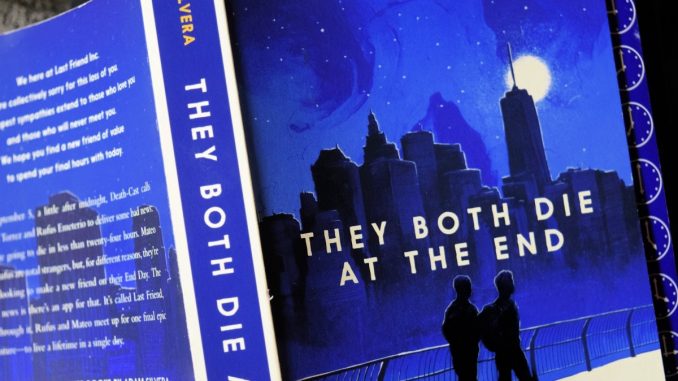 Lara Murray-Sterzel, Staff Writer |
"Deirdre gives us a six-page-long waiver, which isn't uncommon for businesses serving Deckers, but it's also definitely not uncommon that we skim the form, because it's not as if we're going to be around to sue them if something does go wrong. There are so many freak accidents that can happen at any point. Every new minute we're alive is a miracle." – Mateo Torrez, They Both Die at the End.  
They Both Die at the End, the New York Times bestseller novel written by Adam Silvera, invites audiences to embrace the inevitable and experience what the world has to offer.
Before Silvera became an author, he had a variety of career changes. First, he worked as a barista, then he became a bookseller. After that, he worked as a reviewer for Shelf Awareness. Combining his love for books and literature, Silvera began working solely on writing. Silvera became interested in writing from a young age, as he wrote fanfiction since he was a teenager. Soho Teen published Silvera's first novel, More Happy Than Not, in 2015 which went on to be a New York Times bestseller. Harper Teen published They Both Die at The End in 2017, which became popular through TikTok's 2020 #BookTok. Adam Silvera is currently in talks about turning the book into a TV show. 
The novel surrounds two characters, Mateo Torrez and Rufus Emeterio, as they spend their last day alive together. In the novel, both characters receive a call from the mysterious Death-Cast informing them they're going to die. Like young adult novels Before I Fall and Everything, Everything the book embarks on discovering oneself and making moments matter. This theme is explored in the book through its four parts. The first part sees our two protagonists going about their daily lives. Mateo is in his room playing video games and thinking about his comatose dad, while Rufus is beating up his ex-girlfriend's new boyfriend with the help of his friends. After receiving the call, the two are scared to face the time they have left. In the second part, they meet through the Last Friend app, and thus they become friends. Once Rufus and Mateo find each other, the real journey begins from there. 
Mateo and Rufus travel into parts of New York City to create memories, wish loved ones goodbye, and find the closure they'll need before death. The novel also switches perspectives to either their friends or even random strangers. Or not as random as we think? The novel is full of surprises and shows just how all those moments can add up, or even hold the power to one's fate.
I highly recommend giving this book a try. You can purchase They Both Die At The End at any nearby library or bookstore. To learn more about Adam Silvera and his work, visit his website at www.adamsilvera.com.