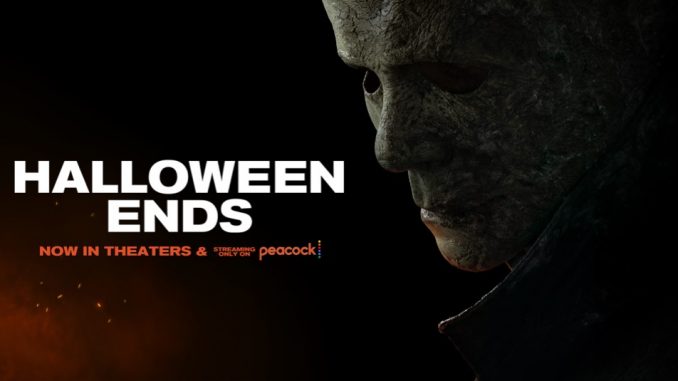 Lara Murray-Sterzel, Staff Writer |
SPOILER ALERT!
In October, everyone is counting down the days to Halloween: Whether it's by decorating your house with jack-o'lanterns or shopping for your costume, no one can wait for this exciting holiday to come. One of the best ways to get ready for Halloween is to go to the movie theater and see new horror movies. This month there are a lot of good movies playing, with one of them being Halloween Ends. The film is directed by John Carpenter and the sequel to Halloween Kills which premiered back in 2021.
The film is set four years after the events of the sequel where the immortal serial killer Michael Myers has disappeared. With him gone, Haddonfield struggles to recover from that awful night he terrorized the town. Meanwhile, Laurie Strode is living a peaceful life in Haddonfield with her granddaughter, Allyson. The two are happy until Laurie and Allyson cross paths with a young man who was accused of murdering a boy he was babysitting years prior. The memory of this crime ignites the paranoia and darkness Michael Myers left behind, enough to draw the serial killer out for one more killing spree.
With an exciting plot and high expectations, I couldn't wait to see the movie. The film was released in the United States on Friday, Oct. 14, with fans going to the theaters for a good time only to walk out with mixed reactions. The film provided the audience with good acting, scary music, and a dark tone, but it lacked a few good traits that made its sequels better. One of these traits was the direction of the plot. The movie took an unexpected turn which left viewers confused and took time away from other main characters.
Another trait the movie lacked was the pacing. Pacing is just as important in any film as the plot is. In Halloween Ends, the pace of the film was inconsistent. During some parts of the film, the pace was too fast while other parts of the film were too slow. In 2018, the film's executive producer and writer Danny McBride said he wanted to shoot 2018's Halloween sequels back-to-back, but decided to wait to see how fans reacted to the movie. When the film was a success, he announced his plans to begin production on Halloween Ends. Maybe Halloween Kills and Halloween Ends should've been filmed at different times? Perhaps the last film wasn't given enough time to develop? The film had so much potential in delivering this epic conclusion to the franchise only to deliver a weak one. At times like this, we need to start thinking about letting film franchises end without making a sequel which could tarnish the franchise's legacy.
Despite my disappointment with the film, the movie was a box office success bringing in $58.4 million on a $20 million budget. Halloween Ends may not have turned out as fans had wanted but it gave us our two favorite characters, Laurie Strode and Michael Myers back on the big screen together one last time. If you have not watched the film yet, I highly encourage you to do so. While it may not be my favorite film in the Halloween saga, it's the final film in an epic horror franchise. You can see Halloween Ends at any theater near you