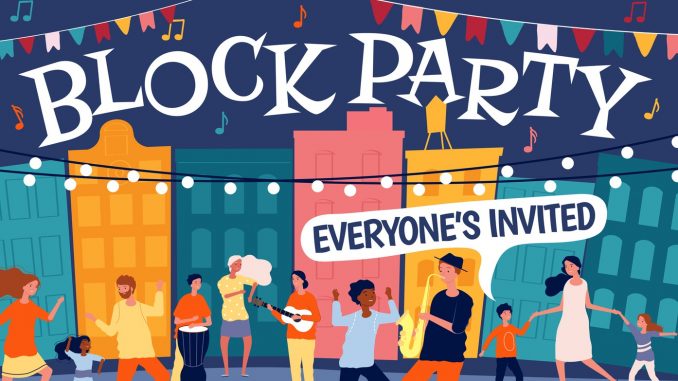 Kyora Wallace, Staff Writer |
What do social justice, good music, and dancing frogs all have in common? Block Parties! Or at least they do in Oneonta. On Saturday, NAACP of Oneonta organized and hosted a block party on Main Street, which was closed off for the event.
You could hear the music from miles away, and the DJs might be familiar to you. The Brothers of DOE (Delta Omega Epsilon) were there on the music, and they got the community moving. Once you arrived, you saw all kinds of chalk drawings on the sidewalk like hopscotch and kids' signatures. There was a setup for Club Odyssey, a space where Oneontans can hang out. It's not a real block party without some food, so along with the music, you're greeted by the smell of BBQ and a pan of hot dogs fresh off the grill.
The Oneonta NAACP has been around for a while now. Since 1993, the group has worked to defend victims and respond to situations of discrimination. They were created in response to the infamous Black List, an incident where a group of Black male students was racially profiled after a burglary. They also work by organizing rallies and events to bring awareness to social justice issues.
I got the chance to speak to the Co-chair of the Education Committee, Diandra Sangetti-Daniels. She is new to the organization, and this was her first event, but she ran it like an absolute pro. She said, "the whole block party idea came out because we were getting a little tired of the Martin Luther King Jr. and Rosa Parks Black history, and we thought this would be a fun way to get the community out and socialize."
Daniels brings up a great point about "Martin Luther King Jr. and Rosa Parks Black history." People so often associate Black history with pain and oppression. Although that is part of it, it is also important to remember there is much more to it than that. Centering Black trauma often does not highlight the contributions that have been made in the world of art and science that African Americans have made. So, it was important to the NAACP to do something creative.
One of the most creative parts of the event has to be the frogs! During the party, two workers showed up dressed as sweetFrog mascots. SweetFrog is a frozen yogurt shop located in Southside, and they came by to say hello and offer some deals! When discussing the mascots, Daniels answered, "to offset the food budget; we went to local businesses asking for coupons, we got free appetizers to hand out. So, they're just doing their part!" The sweetFrog mascots handed out coupons, danced, and took pictures with the attendees.
"Expect to hear more from us," said Daniels. This was the first event put on by the Education Committee of the NAACP, and they don't plan to slow down. Since this branch is the only one in the area, it's vital to know where the safe spaces are on and off-campus. Daniels went on to say, "People don't realize that the NAACP is an option. Getting people to know that the NAACP is here to serve you is another big part of this event." The group has big plans, such as the development of a mentorship program. The program would pair up younger members of color with older people of color to find and keep a sense of identity while in Oneonta. Daniels pointed out, "It's hard to find your cultural identity here when there's only white culture to refer to." While the program is still in its preliminary stages, it will be exciting to see the amazing positive impact this will have on our community.