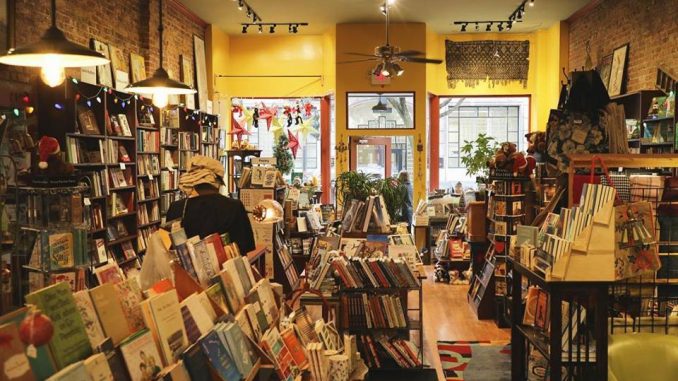 Ashley Hopkins, Staff Writer |
"I need tarot cards."
I looked up from my work at my friend Gavin and gave him a puzzled look. "Random, but okay. For what? Where do you even get those?" I asked. He then told me about The Green Toad Bookstore, a book shop in town. I immediately knew what he was talking about. Connected to Latte Lounge, The Green Toad Bookstore is a cozy little book shop that's packed with books and other cool trinkets.
While I have been to Latte Lounge too many times to count, I never took the three steps over to check out the book shop. Now was my chance!
After our class, we popped into the shop during the afternoon. There were only a few people in the shop at the time, which was a good thing. The shop is a little hard to squeeze through, as there is so much packed into such a little space!
The staff was super friendly and asked if we needed anything. When we asked if they carried tarot cards, they were more than happy to point us in the right direction.
While my friend was looking around, I was able to wander around the shop. They had a huge selection of books ranging from cooking to poetry to journals to fiction to children's books. Since I love to cook, I sifted through their cooking section and saw a bunch of unique cooking books. I moved over to their poetry section, which had a bunch of titles that I had never heard before. As I walked around further, there were some names that I recognized.
Overall, the shop is a nice mix of lesser-known along with more popular books. There are so many that I would advise you to take a lot of time to look around. If you go in without a specific book in mind, it may take a little while for you to sift through everything. However, I am almost positive anyone could find something that they like since they have such a great selection. Again, the staff is super friendly and helpful, so they would definitely be able to help out when trying to make a selection.
As previously mentioned, they have cool knick-knacks, which would make great gifts. This includes jewelry, pins, book accessories, pens, and more.
If you aren't able to find a specific book you had in mind, they have an option to order a book to their store for you to pick up upon its arrival!
As for prices– while they certainly aren't Amazon-level prices– they are reasonable. Book stores nowadays are so hard to come by, especially small, locally owned ones. It's important to support these kinds of businesses because they add so much to the community. It made me so happy to see people browsing and supporting the little book shop!
I think it's definitely worth stopping by and browsing. You can make a whole afternoon out of it, too. After buying a brand-new book, you can grab a coffee at Latte Lounge right next door and dive right in.
Stop in Monday-Saturday from 9 a.m. to 7 p.m, and Sunday from 10 a.m. to 5 p.m.