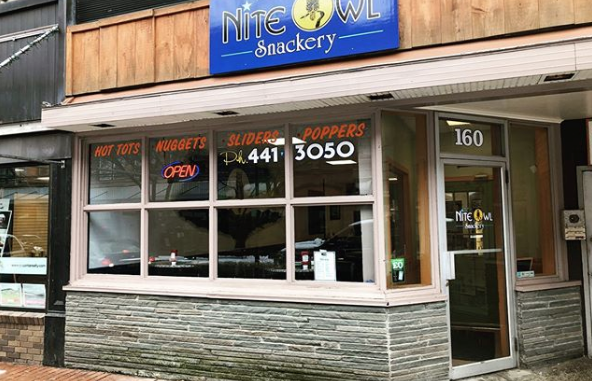 Daniella Fishman, Staff Writer |
Oneonta's new snack joint has reopened with a brand new menu!
The Nite Owl Snackery is a late-night hot-spot for the town's bustling weekend nightlife. Open from 4:00 p.m.-1:00 a.m. on Thursdays and 4:00 p.m.-2:00 a.m. Friday-Saturday, the new and improved Nite Owl Snackery features feel-good food items that will surely make your tummy grumble. With options that cater to vegetarians/vegans as well as meat-eaters, there is something for everyone to snack on at Nite Owl.
When ordering at Nite Owl, I decided to get the items that I've heard so much about— their chicken tenders and their mac 'n' cheese wedges. For all you sauce lovers, your choice of one sauce comes free with your order; any extra sauce will be an additional 50 cent charge, a small price to pay for the added flavor. The prices were relatively cheap and my food was ready within 10 minutes of my order. First, I tried the mac 'n' cheese wedges. They were a crisp golden-brown on the outside and warm, gooey and cheesy on the inside. The cheese was not stale and flavorless like some cheap mac 'n' cheese wedges are. For the price, these were perfection. I've heard that another cheesy staple from Nite Owl is their deep-fried mozzarella Cheese Curds (which look amazing on their Instagram!). Next, the chicken tenders. I definitely enjoyed them, but unfortunately found one from my 4-piece meal to be a little stringy, so I would be wary of that when getting them. As for the other three, they weren't terribly crunchy on the outside but still gave some contradicting texture with the softness of the chicken.
All-in-all, for how unhealthy the meal was, it wasn't greasy, which alleviated my fear of having a stomach ache after I was done. The food wasn't too heavy, granted I didn't order a lot of it, but I was satisfied after my tenders and mac 'n' cheese wedges; I just wished for some variety in terms of less 'fried' food. While I understand that Nite Owl is targeting fans of late-night deep-fried food, I am not very partial to it. Next time I go, I will definitely have to try out their fried Oreos and more items off of their "Veggies" section!
Nite Owl Snackery is open late between Thursday and Saturday. They also do take out, though only from Tuesday through Saturday 11:00 a.m.-8:00 p.m. To remain up to date for all things snackery related, be sure to follow Nite Owl on their new Instagram @oneyniteowl. As always, feel free to tell us at The State Times what you think of your meal! Enjoy your snacking!