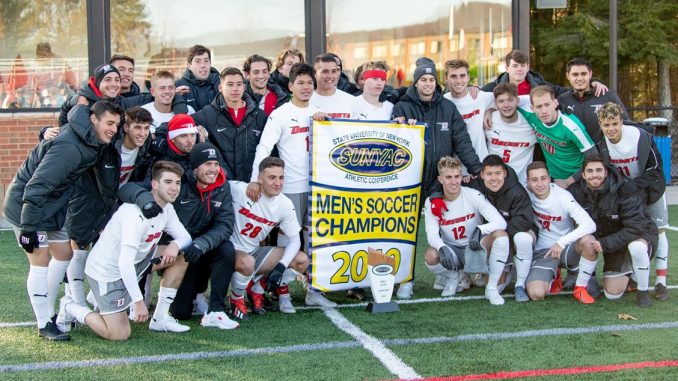 Colin Maruscsak, Staff Writer |
The SUNYAC Championships took place last week and the Oneonta Men's team faced some tough matchups despite coming in as the number one seed overall.
Last Wednesday, they faced off against the SUNY Cortland Red Dragons in the semi-finals. This was a close game throughout with no goals being scored until the second half. Both teams had a respectable amount of shots throughout the game with Cortland having 14 and Oneonta having 16 at the end of regulation. Witman Hernandez showed his own individual skill this game, scoring both of Oneonta's goals in their 2-0 victory. In the seventy-second minute, he gave Oneonta the go-ahead goal off a ball that was freed from the keeper's hands. Following up that goal, in the eighty-first minute, Hernandez showed his skills and game knowledge by weaving through Cortland's defense and giving them a 2-0 lead, which secured them the victory. With this victory, the team proceeded to the finals to face off against the SUNY Plattsburgh Cardinals.
Oneonta and Plattsburgh have seen each other multiple times in the SUNYAC Championships in recent years. With Oneonta having beaten them most times, Plattsburgh was hungry to try and beat the Red Dragons. But history repeated itself last Saturday with Oneonta taking home the SUNYAC Championship title by a score of 1-0. The two teams have played each other 30 times since 1981, when Oneonta started keeping track of their yearly and postseason stats. Oneonta has beaten Plattsburgh a total of 20 times to Plattsburgh's seven, with three ties sprinkled in. However, while the stats show Oneonta was a clear favorite, Plattsburgh still competed with passion and gave us a great game to watch on Saturday. Similar to the game against Cortland, this game started out slow, with no goals being scored in the first half and there only being seven shots across the two teams total. Both teams played solid defensively, however come the second half, both teams fought with intensity to try and claim the lead. Oneonta had seven shots in the second half, and Witman Hernandez, with his twenty-third goal this season, gave Oneonta the lead in the fifty-third minute off a pass from teammate Tristan Battistoni in the box, deflecting it off the keeper's hands and into the back of the net.
With that goal Oneonta sealed their victory in the 2019 SUNYAC Championship. It was a perfect way to top off conference play as Oneonta dominated the SUNYAC all season long. They will now move onto the NCAA Division III tournament where their first game will take place this Saturday, Nov. 16 against Babson College at Red Dragon Field. If you want to know more about the Men's team's journey, or are just interested in all Oneonta Sports, visit oneontaathletics.com for more information including: stats, rosters, and schedules.