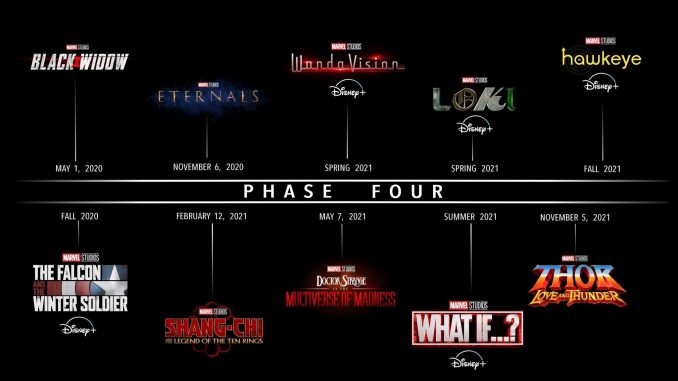 Colin Maruscsak, Staff Writer
Ever since "Avengers: Endgame" topped the charts and became the highest grossing movie of all time, fans have been starving for new content and are curious to see where Marvel will take its franchise. Kevin Feige, head of Marvel Studios, announced upcoming films and TV series that will be part of Phase Four of the Marvel Cinematic Universe (MCU) at San Diego Comic Con and Disney's D23 Expo.
Fans were worried for the future of their favorite web-slinging hero with the drama regarding studio mergers with Disney and Sony over Spider-Man. The two companies had announced back in August that Tom Holland's Peter Parker would no longer be a part of the MCU after failing to reach a deal concerning profits from Holland's Spider-Man films. After much fan backlash and Holland reaching out to Disney CEO Bob Iger, the two studios were able to come to an agreement to work on another Spider-Man solo film within the MCU. Given how prominent Spider-Man has been in the last few movies, fans were outraged that he might have left the universe with no formal goodbye. The third Spider-Man movie is slated to release on Aug. 16, 2021.
In the meantime, Sony plans to continue to build up their own spider-verse with movies focused on villains and continuing with their successful animated film "Into the Spider-Verse." A sequel to "Spider-Man: Into the Spider-Verse" was recently announced by producer Amy Pascal. The release date is set for April 8, 2022.
Spider-Man isn't the only hero who is getting more spotlight—both Black Widow and Doctor Strange are in line for solo films in the upcoming years. "Black Widow" is set to release in May 2020 and will be the first solo movie for superhero Black Widow. Scarlett Johansson will be giving us a glimpse back to Natasha Romanoff's origin days as an international spy and assassin.
Doctor Strange's next solo film is set to release on May 7, 2021 as a sequel to the 2016 movie "Doctor Strange." Ever since his first movie, comic book fans have been interested to see Marvel integrate lesser-known heroes into the larger movies. With his fair share of spotlight in "Endgame"and "Infinity War," Benedict Cumberbatch will have plenty of time to shine in his new but popular role. Along with him, Loki and Scarlet Witch will also tie into the new film as well.
Some of Marvel's further future projects involve some much-awaited sequels, such as a third installment to the comedic but action-packed Guardians of the Galaxy series. With Thor last seen with the Guardians crew in "Endgame," fans are excited to see how Chris Hemsworth's usually stoic and honorable character will be integrated into the rag tag space crew. Coupling with "Guardians of the Galaxy," "Black Panther" will also get a sequel in 2022. With Wakanda's true nature being released to the world at the battle during "Infinity War," fans have been speculating online about what the next movie might be about, if it will take place post-Avengers 4, and who the next antagonist to threaten Wakanda might be.
Disney's newly-released streaming service DisneyPlus has plans to release multiple all-new original Marvel TV series exclusive to the platform. These shows include "The Falcon and the Winter Soldier," "WandaVision," "Loki," "Hawkeye," and "Marvel's What If…?," all of which will be available come 2020 and 2021. Three other new original shows, "Ms. Marvel," "She-Hulk," and "Moon Knight" have yet to announce a release date.
All in all, any Marvel superhero fan should be excited about all the recent news and the steady stream of great titles to be released in the next few years.