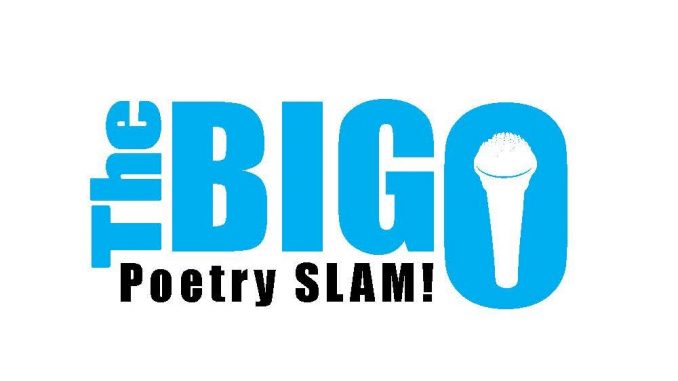 Erin Spicer, Staff Writer |
Last week, the Poetry Slam Association held their annual Big O' Poetry Slam at Hunt Union. This event is held in order to determine who will represent SUNY Oneonta in the state, national, and international slam poetry competitions. Because of this, the Big O' Slam consisted of two rounds, and the average scores from both were added up to determine the five poets and one alternate poet to represent SUNY Oneonta.
For those who are unfamiliar with how poetry slams work at SUNY Oneonta, there are five anonymous judges chosen from the crowd, or celebrity judges chosen ahead of time, who rate each poem on a scale of one to 10. Since there were two rounds for this slam, the 10 highest scores from the first round were moved on to the second one. Audience members were encouraged to participate during the slam by snapping their fingers if a poet said something they agreed with or related to, and by hissing if they felt the opposite way.
The slam started with a "sacrifice," a poem performed by a poet who is not competing, which the judges score. The judges will use the score they gave as a kind of reference for how they score for the rest of the night. This is to ensure the judges remember to base their score on the quality of the poem and performance. This process is repeated before the second round to ensure that the scores don't "creep up" towards the end of the performances, as there is sometimes a tendency for judges to start raising the scores of poems as the night goes on.
The poets all had great performances and were able to connect with the crowd and engage the audience. Many of the poets wrote about personal struggles and experiences that have made a difference in their lives. After a lot of tough decisions and deliberation the representatives for SUNY Oneonta were chosen. The winners of the Big O' Slam were Phylesia, Malack, Alice, Adalyne, Gabe, and Xasey. The event closed with congratulations to the poets who participated and had the courage to go on stage and perform something personal.
The Poetry Slam Association also announced upcoming events such as the Special Open Slam event, which will be held on December 4 from 8 p.m. to 10 p.m. in the Hunt Ballroom. This Slam is open to all students of SUNY Oneonta and the winner of the Slam will receive a cash prize! So, if you are interested in experiencing an Oneonta Poetry Slam event or wish to participate, come join the Poetry Slam Association December 4!