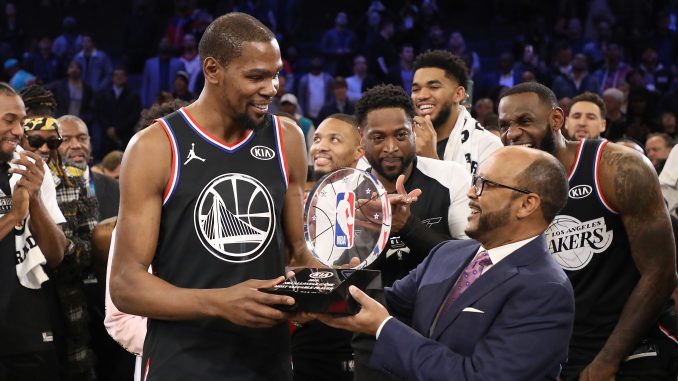 Tara O'Leary, Staff Writer| 
NBA All-Star Weekend kicked off on Friday in Charlotte, NC with the Celebrity Game and the Rising Stars Challenge. On Saturday night, the more popular events took the court, including the Skills Challenge, 3-Point Contest, and Dunk Contest. Then the Sixty-Eighth NBA All-Star Game was the finale on Sunday with a showdown between Team LeBron and Team Giannis.
Boston Celtics forward, Jayson Tatum, was able to walk away with a win on Saturday in the Skills Challenge. After initially falling behind, Tatum was able to come back against Atlanta Hawks guard, Trae Young. When it looked as though Young was going to win the competition, Tatum threw up a half-court shot in hopes that he would knock his opponent's ball away. Instead, Tatum banked in the long shot and stole the victory.
The 3-Point Contest definitely didn't disappoint fans this year. The Curry family put on a show for their hometown, with Stephen and Seth placing a friendly bet on the event. The younger of the two brothers, Seth, scored just 16 points in the first round, while his older brother put up a contest high of 27 points. Stephen hit his final ten shots and easily moved onto the next round. Veteran Dirk Nowitzki took part in his first 3-Point Contest in 11 years, and potentially his last. The 40-year-old finished with just 17 points however and didn't make it out of the first round. Buddy Hield of the Sacramento Kings and Joe Harris of the Brooklyn Nets joined Curry in the final round of the contest. Harris kicked things off with an impressive 26 points, which Hield failed to reach. The Warriors superstar took the court last, hitting his first nine shots before cooling down in the middle of the round. When he reached the money-ball rack he needed to knock down all five shots, but Curry only got four, allowing Harris to walk away with an impressive win. "Steph Curry went 37 for 50 tonight and DIDN'T WIN the three-point title. That's how good, and how timely Joe Harris was," tweeted Tim Reynolds of the Associated Press.
One of the weekend's most fun events is the Dunk Contest where players show off their best tricks around the rim. New York Knick Dennis Smith Jr. caught an alley-oop from rapper J. Cole while jumping clear over the rapper's head. However, Oklahoma City guard Hamidou Diallo absolutely stole the show when he brought out Hall of Famer Shaquille O'Neal. Diallo revealed a Superman shirt underneath his Thunder jersey and leapt over the former seven-foot-one-inch NBA star, hanging from the rim by his elbow as the crowd went wild. "I was sure," said Diallo when asked if he knew he could dunk over Shaq, "I wouldn't have brought him out there if I wasn't sure." In the final round of the contest, another rapper was pulled from the stands as Diallo jumped over Quavo and slammed down the winning dunk.
Sunday night's All-Star Game was only the second one that featured a draft. LeBron James and Giannis Antetokounmpo were named team captains after leading their conferences in fan votes. Giannis and LeBron then got to draft their own rosters from a list of players that were voted in via fans, players, and media members as All-Star starters. Following the first batch of candidates, both captains drafted from a list of reserves voted in by NBA head coaches. Each team was also given a special roster addition in veteran players Dwyane Wade and Dirk Nowitzki, who were added in by NBA commissioner Adam Silver.
Team LeBron and Team Giannis took the court in a battle amongst the best of the best. Giannis came out strong in the first half, putting on quite the show. He made the play of the night after slamming down a bounce pass alley-oop from Steph Curry. The first half ended with Team Giannis leading by 20 points. However, Team LeBron did not quit. They came out firing in the third quarter, hitting a number of three-pointers to get back in the game. LeBron and his former teammate Dwyane Wade looked to still be in sync on the court as Wade tossed an alley-oop to LeBron in the third. The two teams went back and forth in the last quarter, leaving the game within three points with just over four minutes remaining. Team LeBron then went on a ten-to-two scoring run and pulled away for a 178-164 victory.
Warriors forward Kevin Durant was named game MVP after finishing with 31 points. It was Durant's second All-Star game MVP award.