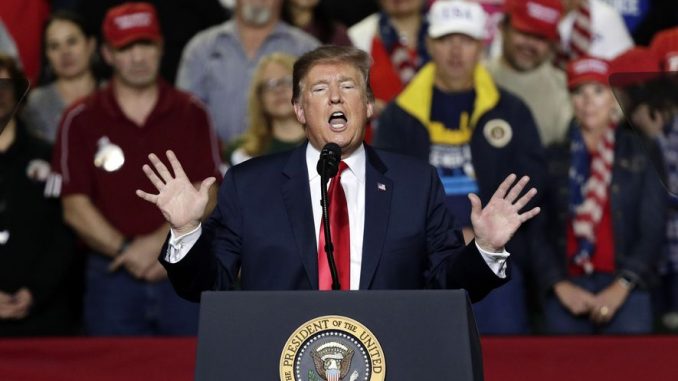 Casey McShea, Staff Writer |
President Donald Trump and former Texas congressman Beto O'Rourke went head-to-head in simultaneous political rallies in El Paso, Texas on Feb. 14. The two clashed over border protection policies, O'Rourke challenging the president in his most direct and public way yet.
"With the eyes of the country upon us, all of us together are going to make our stand, here in one of the safest cities in the United States of America—safe not because of walls, but in spite of walls," the former congressman told the crowd of thousands who had gathered to hear and support him. "We treat each other with dignity and respect. That is the way we make our community and our country safe."
O'Rourke, who is weighing a bid for the 2020 Democratic presidential nomination, said that if he could, he'd tear down the border wall that separates El Paso from Mexico. Despite Trump calling the fence proof that "walls work," O'Rourke said that the fence's construction in 2008 "didn't make us any safer," pointing out statistics that showed that El Paso was one of America's safest cities long before the fencing was installed.
Trump, who took the stage at his rally right after O'Rourke's ended, did not hesitate to mock the former congressman. He claimed O'Rourke's rally was poorly attended and that his 2018 midterm election loss to Republican Senator Ted Cruz should disqualify him from seeking higher office. He also singled out and mocked the "Green New Deal," a climate-change action plan created by Democratic New York House Representative Alexandra Ocasio-Cortez. The president claimed the plan would eliminate air travel.
"But I really don't like their policies of taking away your car, taking away your airplane flights, of 'let's hop on a train to California,' or 'you're not allowed to own cows anymore!' […] It would shut down American energy, which I don't think the people in Texas are going to be happy with. It would shut down a little thing called air travel. How do you take a train to Europe?"
Later during the Trump rally, a Trump supporter attacked the news crews in attendance. BBC cameraman Ron Skeans was "violently pushed and shoved by a member of the crowd" while covering the rally. He said he hadn't seen the man in the crowd approaching him, but he felt a "very hard shove" that almost knocked him down. Video that appeared to be from Skeans' camera showed it falling toward the ground. Seconds later, when the picture was restored, a man in a red "Make America Great Again" hat could be seen being restrained as he shouted, "F—k the media!" It is unclear whether the man, who has not been publicly identified, will be charged.
During the incident, the president interrupted his speech to ask if the cameraman was okay, pointing towards the crowd and asking, "You all right? Everything okay?" and flashing a thumbs-up.
The incident drew outrage the next day, as Trump's calling the media "the enemy of the people" has raised concerns about the potential for violence against the media. Shortly after the incident, White House Press Secretary Sarah Sanders released a statement that said Trump "condemns all acts of violence against any individual or group of people—including members of the press."
BBC editor Jon Sopel said that he did not feel Trump or his administration's response at the rally had gone far enough.
"There was no condemnation. No statement that this was unacceptable. The Trump campaign issued a two-line statement on the incident, but equally did not condemn what happened," Sopel wrote in an editorial. "What conclusion should we draw from that? What message does it send to people who feel hostile towards the media?"