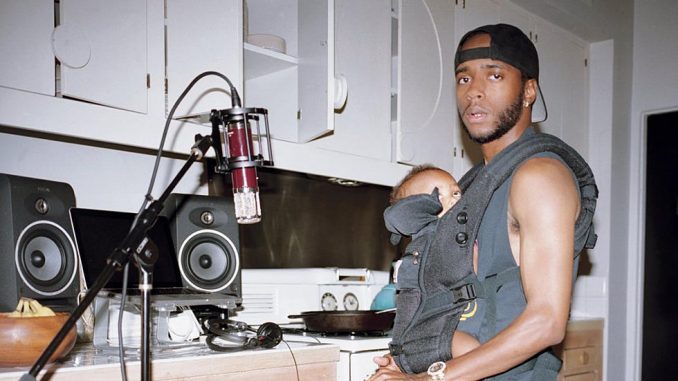 Tara O'Leary, Staff Writer |
"East Atlanta Love Letter" is the long awaited sophomore album of singer-songwriter 6lack. Due to many prior mispronunciations, the singer makes it a point to print on his merchandise that his stage name is pronounced 'black.' The 26-year-old is often placed in the genre of alternative R&B, in which he sings and occasionally crosses over into rap with a dark, gloomy sound.
He got his start in 2016 with his now gold certified first album, "Free 6lack." He earned platinum status with his lead single "Ex Calling" and a double platinum certification for his second single "Prblms."  In 2017 he became a father and stepped onto a larger stage as an opening act for The Weeknd. The success of his debut earned him two nominations at the 2018 Grammys, one for Best Urban Contemporary Album and another for Rap/Sung Performance.
With his second album, the Atlanta native returns with more star power on this 14-track record. 6lack is accompanied by five features, which include Future, J. Cole, Ty Dolla $ign, Offset, and Khalid. The album flows together extremely well with seamless transitions between most songs. Some tracks also include voice overs to provide a female perspective to his story.
The intro track "Unfair" is basically a thesis statement for the whole album. 6lack is struggling to manage both love and his budding career. At the end of the song he sings, "I'm stuck between what I love and who I love, and I know it's unfair." The singer feels trapped between chasing his dream and committing to someone he loves.
The theme comes back possibly at its strongest on the album's seventh track "Disconnect." On the hook of the song 6lack sings, "Why you wanna kick me out of my natural element / I'm tryna work it out but we gotta disconnect." 6lack is portraying his struggling relationship, as the girl that he loves is pressuring him to make a choice between her and his music.
The album's lead single "Switch" focuses heavily on his struggles with newfound fame. To 6lack, the song is all about perspective and serves as a reminder to be aware of what people go through. In the first verse he sings about wanting to get away from everything and he sheds a light on the fact that nobody knows what his life is really like, even though they are so quick to judge. 6lack sings "Ain't nobody gotta go through what I'm going through, no / but it seems like they all know what I'm supposed to do so / Let's switch bodies for a day / you could be me and I could be you." It represents him handing his life over to others so they can see how he lives.
6lack wraps up the album and his theme by referencing the Eminem-coined term "Stan." On his track with the same title, 6lack uses the name in an endearing way. As he sings "Say you'll always be my greatest fan / sing your favorite words just like a band / only if you'll love me like a Stan," 6lack parallels the support of a fan and a girlfriend. For him, music and relationships need to be able to coexist.  In the second verse of the song he sings, "Life without my love is a slant rhyme/ that means it works out but it ain't quite / what it supposed to be that ain't all right."
6lack celebrated "East Atlanta Love Letter" in a very unique way. The night before the release of his second album, the singer held a listening party at the Starlight Drive-In Theater in Atlanta. The theater opened for 140 cars on a first come first serve basis. With the announcement of the event, 6lack tweeted, "I think the best way to listen to an album for the first time is in a car with your friends," and that is exactly what he provided for his fans.
"East Atlanta Love Letter" made its debut at number three on the Billboard 200 chart, selling 77,000 units. 6lack credits his daughter as his inspiration, writing on Instagram, "I want to lead by example and leave behind the story of a father who not only loved you, but loved what he did, and served a purpose bigger than himself."
To anybody who enjoys a slow R&B sound, "East Atlanta Love Letter" comes highly recommended.