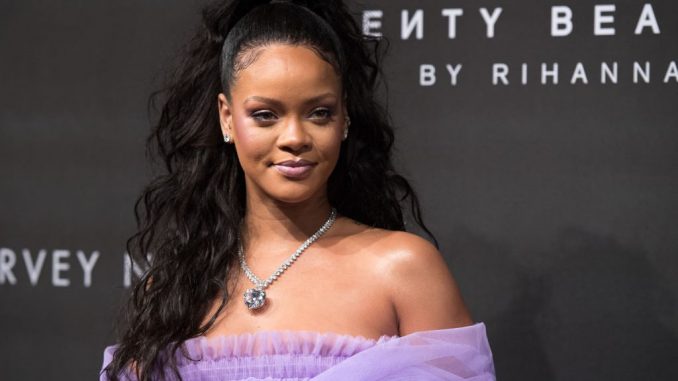 Katie Hebert, Staff Writer |
R&B superstar, Rihanna, known for her record-breaking hits such as "Umbrella," "Disturbia," and "Work," is also known for breaking the boundaries in her politics beyond music. It is no secret that she is unapologetic in the steps she takes and the decisions she makes, which is evident in her endeavors both in and out of music. In 2017, Rihanna created a line of makeup called "Fenty Beauty," following a lingerie line called "SavagexFenty" in May of 2018.
The beauty industry is known for its controversy of being very conventional and hegemonic; it typically supports the notion that very thin white girls following European ideals are the norm for beauty. This transcends into music and media easily, which makes it difficult for artists of marginalized statuses to exist peacefully in their art. Rihanna, a Barbados-born woman of color, (who has definitely had her fair share of negative spotlight) has been actively resisting norms and expectations for many years.
In 2017, Rihanna launched her makeup line called "Fenty Beauty," which specifically gained much attraction due to its inclusive selection of shades and diversity in models. Allure magazine writes, "The line's most discussed product, the Pro Filt'r Soft Matte Longwear Foundation, is resonating with Black women on a level that's more than skin-deep. The line has had an outsized influence on popular culture — in particular, beauty — and yet, it is still an (unnecessary) struggle for black and deeper-skin-toned women to find makeup that matches and compliments their skin tones. The possibility of being represented within the same breadth normally reserved for paler skin tones isn't just exciting — it's a statement that women of color deserve complex options." Rihanna's makeup line recognizes and acknowledges the discrimination women of color face in seeing themselves within the industry, and makes room for those typically ignored and left out.
This was just the start for Rihanna's work outside of music. In 2018, she launched her lingerie line, "SavagexFenty," promoting body positivity and sex positivity to, again, a wide audience that is vastly underrepresented in this field. Elle magazine noted the clothing line, and interviewed women of all racial backgrounds and sizes. The consensus was that women of all sizes can find a bra that fits comfortably and looks good, and can match their skin color; "Thanks to its many shades of nude, large size run [32A to 40DD], and hard to get your hand on product, fans across the world have been eager to give the collection a try."
"SavagexFenty" also sells different accessories like whips and handcuffs, promoting sex positivity and sexual liberation. When speaking about the Savage line, Rihanna told Elle, "My core is always gonna be there, you are gonna be you every single day of your life and nobody can take that from you. Whether it's your sexiness or confidence, it's gonna be there. I am a savage so everything I do is gonna be savage. Savage is not about looking sexy, it's not about the product—it's all about you. It's all about how you feel. You cannot fake sexy, what you need to do is find it. Clear all that negative s**t out, get to your sexy, and own it—that s**t is yours."
The models in the Fenty Beauty advertisement, who also model for "SavagexFenty," break away from what we know of conventional beauty standards, and are breaking the boundaries of what modeling is defined by. One of the models, Slick Woods, 21, is a good friend of Rihanna's. Woods, known for her gapped teeth and buzz cut, has gotten much hate on social media for exhibiting beauty outside of the norm, but continues to be the face of Rihanna's products and in other photo shoots as well, helping the brand defy the ideas and constructs of beauty that are shown through tall, skinny, blonde, white women.
Looking on the "SavagexFenty" website, many of the models are of bigger sizes, are women of color, and some models are in different stages of pregnancy. Rihanna says, "I wanted to include every woman. I wanted every woman on the stage with different energies, different races, body types, different stages in their womanhood, culture. I wanted women to feel celebrated and that we started this s**t. We own this. This is our land because really it is. Women are running the world right now and it's too bad for men."
When asked about her advice to young girls, faced with unrealistic beauty standards and having trouble finding themselves, especially in an era consumed by social media, Rihanna says, "The biggest mistake you can make is to compare yourself with someone else. I hate the pressure that's being put on us by social media. Young girls don't know which way to go; they're still figuring themselves out. And what we're teaching them through social media is this idea that you have to be perfect. I just reject that at every cost. I only know how to be me, and people thrive when they're who they're meant to be. I can only try my best to encourage girls and women to respect their uniqueness and be 100 percent true to themselves."
Long story short, Rihanna is a feminist powerhouse, working to make room for underrepresented women in the beauty industry. People in the spotlight should follow her lead, and work to make more representation in the media for the many identities that exist. And also, who doesn't love Rihanna? "Unfaithful"? "Take a Bow"? The entire "ANTI" album? She is an undeniable queen.