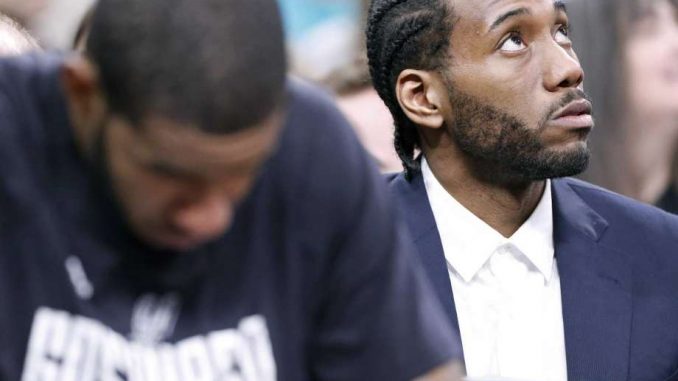 Wyatt Cushman, Staff Writer |
The NBA Playoffs are set to commence on Saturday, April 14. The most exciting part of the season is finally here, but it has people already thinking about the wild offseason that is set to take place this summer. Some of the soon-to-be free agents include LeBron James and Paul George, who some expect to both be playing for the Los Angeles Lakers next fall. These are two of the most coveted prizes in free agency this summer, but another player is possibly moving on from his current team.
Spurs power forward, Kahwi Leonard is part of an incredible franchise, that has been consistently good for the last two decades. Leonard obviously hasn't been in San Antonio for 20 seasons, but he has been apart of their more recent success, including an NBA Championship in 2014, in which Leonard was named Most Valuable Player (MVP). Leonard has built a reputation of elite skill, both offensively and defensively, and a calm, cool, and collected attitude at all times. Leonard is a player that carries himself very professionally, and never causes unnecessary drama that could be a distraction to his team. He nearly won the regular season MVP last season, but this season has been anything but a year to remember.
This season has been the most controversial for Leonard in San Antonio. A hip injury was supposed to only delay the start of his season. Some rest and rehab were supposed to be all that was required to bring the All-Star back to the court. This has been far from the truth though.
It was clear early on this season that Leonard would need to miss more time than previously anticipated. After sitting out a considerable amount of time, he was back on the court playing basketball; it appeared as though his injury "nightmare" was over. This was short lived however, as Leonard only appeared in nine games before being shut down, once again, for the same injury. After even more rehab, Leonard was cleared to play again, but this time he felt he wasn't ready to come back, and made his own decision to continue to sit out.
For several months the question of "Will Kawhi come back soon?" was asked to members of the Spurs organization. Frustration and tension rose, and is currently to the point where players and coaches are moving on, readying themselves for life without Leonard in the playoffs.
All this ongoing tension is raising yet another question as to whether or not Leonard will be back with the Spurs next season, or if the organization even wants him back. A controversial season might lead to a breakup between the two. This cyclical injury has created drama that the Spurs just don't need or want to have.
If Leonard does decide to leave, he would be a huge addition to any team, assuming he makes a full recovery from his hip injury. Kawhi and the Spurs have both stated they would like to stay together long term, but at this point it appears nothing is off the table. There's still some time this season for Leonard to possibly come back from his injury, though it seems unlikely. We'll just have to wait and see what happens once the season is over and free agency begins.