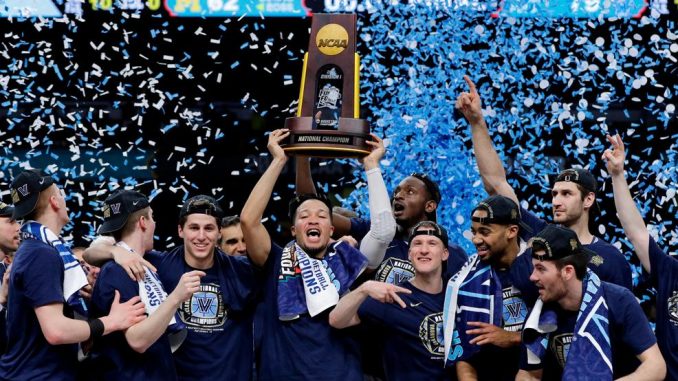 Wyatt Cushman, Staff Writer |
Last Monday night in San Antonio, TX, the Villanova Wildcats took on the Michigan Wolverines in the NCAA National Championship game. This was the final step in what was an amazing tournament that delivered upsets and Cinderella stories that we will not soon forget. These two teams survived to the finish and while they ended their season on different notes, each played fantastic basketball in March.
National Championship games are often close. They're nail biting games decided in the final minutes, much like in 2016 when Kris Jenkins hit a buzzer-beater to lift Villanova over the North Carolina Tar Heels. This championship game was a one-sided affair however, with the Wildcats defeating Michigan by a score of 79-62. While the first half was close, it was clear who was the superior team midway through the first half, and it was only a matter of time before they would be crowned champions.
This was the second championship in three seasons for Villanova. With the victory, coach Jay Wright becomes only the third active head coach to have multiple championships, joining Duke head coach Mike Krzyzewski and North Carolina head coach Roy Williams. Villanova also became the fourth school since 1985 to win two championships in three years, joining Duke, Kentucky and Florida. Villanova has cemented themselves as a college basketball powerhouse, and they are showing no signs of slowing down.
Nova's best player this season was Jalen Brunson. He was a candidate for Player of the Year and is a projected second round pick in the upcoming NBA Draft. He carried this team to the title game, but he wasn't the man everyone was talking about the morning after the monumental win as he tallied just nine points. That glory belonged to Donte DiVincenzo, who wowed everyone on his way to earning Final Four MOP (Most Outstanding Player). On Monday night, DiVincenzo dropped a game high 31 points off the bench, including a personal 9-0 run in the second half. He was on fire all night, and Michigan didn't have any answers for the redshirt sophomore.
Many teams who win a National Championship battle through adversity on their way to a title. While Villanova did battle through foul trouble and deficits at times, they essentially cruised all the way through this tournament. They dominated one-seeded Kansas in the National Semifinal, draining a Final Four record 18 three-point shots in the process. They won every game they played by double digits, becoming the first team to accomplish that feat since North Carolina in 2009.
Villanova used to be known as a team that had tremendous regular season success, but couldn't get the job done in March. Now after multiple titles in a three-year span, they have the respect of the entire country. They have an incredible recruiting class coming in and talks have already begun on possibly another championship next season. For now, they'll bask in all the glory and celebrate with one another on a tremendous accomplishment.