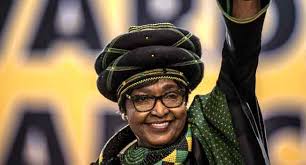 Hanna Da'Mes, Staff Writer |
On April 2, Winnie Madikizela-Mandela, ex-wife of Nelson Mandela, passed away at the age of 82. While many knew of Nelson Mandela, the former President of South Africa who died in 2013, his second wife was not as well-known. Winnie was born in Bizana, Transkei on September 26, 1936. She met Mandela when she moved to Johannesburg in 1953, while furthering her efforts in social work.
A social activist and strong influencer in the anti-apartheid struggle, Winnie made a significant impact on the South African socio-political climate. Her work as a leader of the Women's League on the African National Committee (ANC) gained her the title as the "Mother of the Nation."
Winnie Mandela earned many awards during her time as a political activist. She was recognized for her efforts against apartheid in South Africa with the Robert F. Kennedy Human Rights Award, as well as the Candace Award. Her active campaigning and organization of protests gave the ANC several reasons to make Winnie the symbol of their movement against apartheid. Winnie found herself in another "mother" role in the Soweto Uprising, which was comprised of black youth in South Africa who were unsatisfied with the inequality in their country. Mrs. Mandela tended to those who were arrested, injured, and traumatized from the events.
When things began to get increasingly violent and threatening, government officials pointedly looked for someone to blame. Winnie was in their line of sight, and she was arrested for five months.
Nelson and Winnie married in 1958, but their time together, in a physical sense, was short-lived; Mandela was imprisoned in 1962 for his efforts to overthrow the government. He spent 27 years in jail, all of which Nelson and Winnie stayed married.
While he was in jail, Winnie became Mandela's public face. However, she would take on political stances that were far different from his ideals. In the 1980's, her efforts took a drastic turn and seriously effected her reputation.
Winnie Mandela's strategies at times resorted to violent acts, performed by the security detail group, Mandela United Football Club. The group would hurt police officers and those in association with the National Party government in the name of "justice." She was imprisoned many times and spent several months in solitary confinement. Mandela filed for divorce from Winnie when he was released from jail, claiming she had been unfaithful and colder than she once was. The divorce was granted, although Winnie kept his last name and they maintained tied together, as they still had immense respect for one another.
Many agree that Winnie tarnished her character when she began endorsing violent behavior. She was reported to have publicly announced her endorsement of "necklacing," the act of burning people alive in the name of activism. She was accused multiple times of the torture and murder of various individuals, including four young teenagers, in an attempt to get them to confess a crime she suspected they had been apart of.
Although Winnie Mandela positively contributed to social reform on a number of occasions, there is no doubt that she has also committed a great number of unspeakable crimes. Her death will not go unnoticed, both because of the impact she had on the political fabric of South Africa, in addition to her association with her Nobel Peace Prize winning ex-husband. Hopefully her past will teach current and future activists the advantages of peaceful campaigning and civil resistance, and to recognize the disadvantages of violent activism.