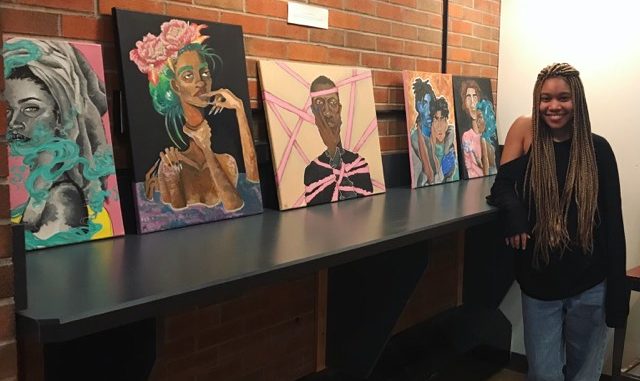 Michelle Barbero, Culture Editor |
On March 21, SUNY Oneonta's Africana and Latino Studies (ALS) Club and the Poetry Slam Association (PSA) hosted an Anti-Racism Art Showcase. As a result of the collaboration of these two campus organizations, a friendly and safe environment was created for people of all backgrounds to share their beliefs and concerns about our society through diverse works of art and voices of poetry.
For example, one artist exhibited at the event was Janaya Josephs, whose art  was exhibited at the event depicts people of color in scenes of every day life. Her colorful paintings functioned as great conversation starters.
PSA President Jillian Moczara and ALS President Emmanuel Woolard welcomed everyone to the event. Woolard who is a senior Africana and Latino studies major, pointed out that "we need to foster a space for community."
Art is an outlet for students to share personal experiences and it allows for people to touch upon one of the most impactful issues in the United States: racism.
One of the reasons why the art showcase was planned is because of a recent incident at SUNY Plattsburgh. This past January, a student created a Snapchat post that related to the lynching of African Americans, and the post went viral on the campus. This post outraged the Plattsburgh student body and led to a student protest with around 400 people in attendance.
According to NBC 5, Vice President of Student Affairs at SUNY Plattsburgh, Bryan Hartman, reached out to students in regard to the racist post. Hartman wrote to the student body, "as a campus, we will continue to collectively and actively work against such efforts to divide communities and spew hate."
Students were able to submit original works of art that touched upon a series of topics including colonization, terrorism, and privilege. To kick off the night, Gabe Membreno read a poem in which he explored his personal connection to Hispanic history and his roots.
When delivering his message, Membreno wrote the memorable line "you Dominicans are so bitter," which highlights the lasting effect that people's judgments have on a person. The coffee metaphor also functioned as a connection to the colonization of various Hispanic cultures, where their labor was used as a way to profit off of coffee, a popular export. He also talked about how his name is an "old white name" and some of the impacts that has on his identity.
Next up, a poem titled "Dear White People" was performed by Melena Suarez. She started off her poem by addressing white women and how they treated her mother and herself when she was younger. She recalled hearing people make offensive remarks to her mother, such as "learn the language spick."
Suarez went on to reflect upon other times in which she interacted with white people when it ended negatively. In regards to racist people, Suarez said "I think of how you look at our hands with disgust" and "go into the gift shops of our countries."
After the first two performances, the hosts of the event asked the audience to get up and dance. The hosts were very attentive and checked on how the audience was feeling during this serious event through various "climate checks." The mood was lightened throughout the room as the attendees and club members danced together to the songs "Alright" by Kendrick Lamar and the "Cupid Shuffle" by Cupid.
After this short break, the performances resumed with a poetry reading by Rippan Kaur, who talked about what it is like to be an Indian woman in this society. Kaur acknowledged stereotypes that Indian women are faced with, such as the expectation that these women are supposed to be quiet. But Kaur overcomes these assumptions and says, "this body carries stories."
Kaur also talks of the struggles that her ancestors had to go through and delivers the powerful line, "Jesus was not the only one who died for his sins."
After Kaur, another female artist, Malack Alharaizeh, took to the stage, putting an interesting spin on the assumed link between certain cultures and terrorism in the United States. She opened up to the audience and shared her experiences in middle school; being the one that everyone was afraid of because of her appearance.
When Alharaizeh was being excluded, teachers ignored the problem and her friends were too afraid to help her out. What stunned the audience the most was that she recalled being asked to sit down during the World Trade Center remembrance ceremony at her school. The line,  "For some of us every day is September 12," had everyone stunned and truly opened up everyone's eyes.
Instances such as the one that occurred at Plattsburgh are the reason why anti-racism and community bonding events are seen as essential on college campuses. The goal of the Anti-Racism Art Showcase was to reflect on what we want our society to look like. Woolard reminded everyone that "this is an event for the people, by the people."
For more information about the ALS and PSA clubs and on how to get involved in anti-racism events on campus, please contact Jillian Moczara and Emmanuel Woolard, or visit connect.oneonta.edu.