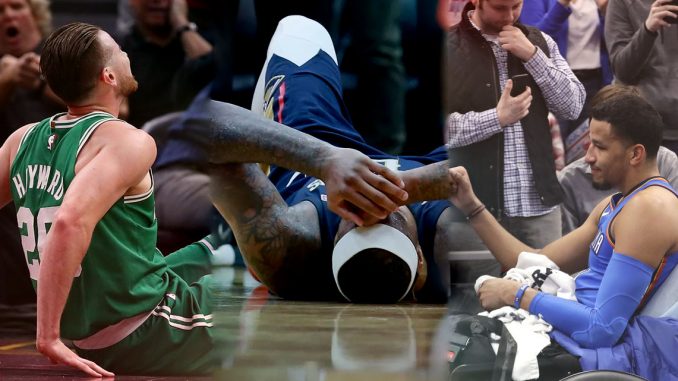 Wyatt Cushman, Staff Writer |
This NBA season is just starting to heat up: All-Star Weekend has just passed, and the end of the regular season and the start of the playoffs are quickly approaching. This NBA season has had its fair share of drama, excitement, and controversy, but we have also seen an increase in the number of player injuries. Injuries happen every year, in every sport, but it appears this season more and more NBA players have become sidelined. From star players to role players, it seems the "injury bug" is spreading like wildfire.
Just minutes into his Celtics debut, Gordon Hayward went down with a gruesome ankle injury, ending his season as soon as it started. This has been the worst injury of the season so far, but it has been far from the last.
Two-way star Kahwi Leonard of the San Antonio Spurs never really started his season either, as he has sat out most of the season with a quad injury, only appearing in a couple of games. Another player who never really got into a rhythm due to injury is 76ers rookie Markelle Fultz. Fultz was supposed to be part of a dominant backcourt for Philly with Ben Simmons, but a shoulder injury bothered him before he was eventually shut down.
These three players all went down early on in the season, however many more players recently have gone down; DeMarcus Cousins of the New Orleans Pelicans, one of the most dominant big men in the league, tore his Achilles on January 26, ending his 2018 campaign, and hurting the Pelicans chances of capturing a playoff spot this season. Another All-Star that was recently lost for the season is Knicks star Center Kristaps Porzingis. The Knicks were already out of playoff contention, but Porzingis was named to his first All-Star team this year, and was showing the entire league why. Now he will have to spend the rest of this season and possibly some of the next recovering.
So why are all these injuries happening this season? Is there a reason we are seeing an increase? The short answer is probably not. It's most likely that all these injuries are just coincidentally happening at the same time. A similar thing happened in the NFL in 2017, but we can't connect the two. Another thing to consider is that in modern day sports, athletes are taking better care of their bodies, or at least that's what we have been led to believe. They are getting treatment daily and resting their bodies whenever they are off the court. We know overworking your body can result in injury, but NBA players aren't playing anymore than they did in previous years.
No one likes to see an athlete go down with an injury, especially a season ending one, but the reality is that it's just part of the game. Injuries have always and will continue to happen. We can only hope that when they do, the player comes back better than ever. Hopefully the injuries for this season are over and we won't have any more star players go down. Regardless of whether or not the "injury bug" is done with the NBA, let's pray it doesn't hit Major League Baseball next.