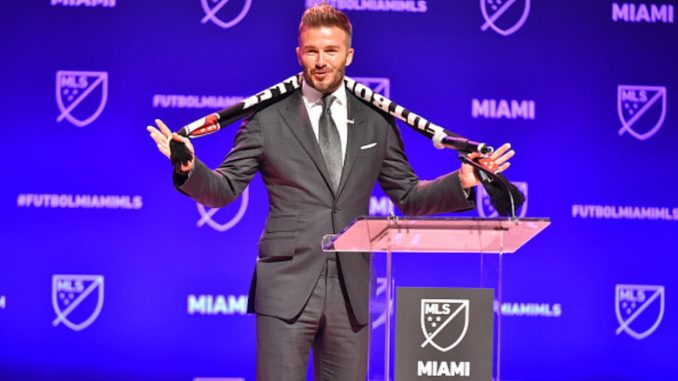 Adam Hadad, Contributing Writer |
David Beckham finally fulfilled his dream of owning his own club.
In 2007, David Beckham signed a contract with the LA Galaxy that included an option to purchase an expansion team for $25 million. After ending his career in 2013, he began to plan for the expansion team to be in Miami. In 2014, the league announced that Beckham has exercised his option, though the expansion would not be approved until a plan for a stadium was secured.
On January 29, The Miami Beckham Group was granted the rights to pursue the new expansion team in Miami, Florida, four years after the original announcement.
The ownership group includes:
David Beckham, former Manchester Utd. and LA Galaxy player
Marcelo Claure, Chief Executive Officer of Sprint
Jorge and Jose Mas, Miami-based leaders of Telemas, a telecommunications and construction giant
Masayoshi Son, Founder and Chief Executive Officer of SoftBank
Simon Fuller, entertainment entrepreneur and manager, and Beckham's business partner
The MLS wrote on Twitter, "Our mission to bring an MLS club to Miami is now complete, and we are deeply satisfied, grateful, and excited." Beckham, the first former MLS footballer to own a team in the league, declared, "Our pledge to our fans in Miami and around the world is simple: your team will always strive to make you proud, our stadium will be a place that you cherish visiting, and our impact in the community and on South Florida's youth will run deep."
According to league sources, the team won't begin playing until 2020, with the league trying to expand its number of clubs from 20 to 24. And since the stadium would not be ready until 2021, the team will probably play at a temporary site somewhere in Florida. It is hinted that they might use Marlins Park, home of the Miami Marlins, or the Riccardo Silva Stadium of the Florida International University, though only for its inaugural season.
While the group's proposal to build a stadium near Marlins Park fell through, they announced that they have acquired a site in the Overtown neighborhood of Miami. The land will be owned privately by Beckham's billionaire group, while 1/3 of it is publicly owned. The stadium is planned to be one of the best sports centers in the country, able to accommodate around 25,000 people.
Though it is all fun and happy for now, there are underlying issues concerning the location for the planned stadium. Overtown is a rundown district northwest of downtown Miami, known for being one of America's worst ghettos. It is an area blighted by years of government neglect, filled with junkies, hookers, drunks, gangs, and homelessness. The area is nicknamed "Miami's Ground Zero," with kids as young as 12 years old ceding to the opioid crisis – which Donald Trump addressed at his first State of the Union as the greatest plague in America today.
With the stadium, many residents are worried that they might lose their homes. For now, we don't know if the proposed plan will bring future stability for the people of Overtown.