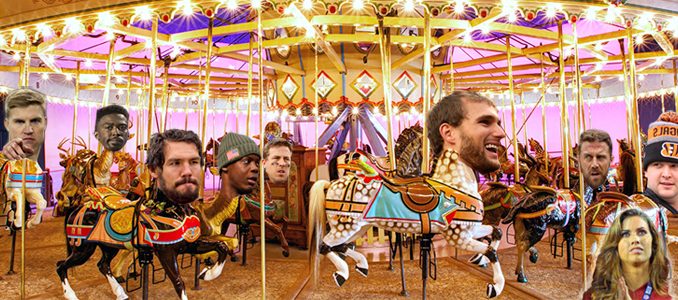 Wyatt Cushman, Staff Writer |
The NFL season was long and exciting, and a player that was contemplating retirement two years ago, Nick Foles, is now a Super Bowl MVP after he led the Philadelphia Eagles to their first ever Super Bowl title. The end of another season means that we have a very interesting offseason to look forward to. A normal offseason may give us an exciting trade or two; there may be a big name free agent who could switch uniforms and shake up the landscape of an entire team. This offseason, though, will have numerous teams in the market for a Quarterback, and a few big names who may be getting a call to change jerseys next season.
It seems like there is at least one team in every division who now needs a new mind to run their offense. Some teams this season, such as the previously noted Philadelphia Eagles and the Los Angeles Rams, found who is believed to be their franchise Quarterback in Carson Wentz and Jared Goff. Other teams are in the opposite position and are seeking that franchise Quarterback all teams desperately need.
One of these teams is the Denver Broncos. The Broncos watched their future Hall of Fame Quarterback Peyton Manning retire a few years ago, and have been looking for someone to replace him ever since. Denver has one of the best defensive units in all the NFL, but lack of production at the Quarterback position has hurt them as of late. As a result, the team has not played anywhere near the level they were at when they won the Super Bowl two years ago. If the Broncos can find their missing piece, they may be able to return to the top.
Another team in need of a Quarterback is the New York Giants. The Giants still have their two-time Super Bowl winning Quarterback Eli Manning, but he is currently 37 and only getting older. This past season was a rough one for the Giants, and the quality of play at the Quarterback position may be one reason why. We don't know if the Giants will look to the draft, free agency, or not address the position at all this offseason, but it appears they will be soon.
The Broncos and Giants are just two of the many teams in need of a Quarterback. The Bills, Jets, and Cardinals all come to mind when thinking of teams who need to acquire a new signal caller; the Browns and Jaguars may explore their options as well. This list is long and includes many teams who were recently in the playoffs and some who were in just this year. The two names that come to mind right away to fill one of these jobs are Kirk Cousins and Nick Foles. Cousins has been the guy in Washington for a few years now and has been playing under the franchise tag (a one-year contract that pays a player a certain amount based on the salaries of other players that play his position around the league). Cousins has expressed his desire to get a long-term deal done and now knows he won't be staying in Washington. The Redskins recently traded for Kansas City Chiefs, now-former Quarterback, Alex Smith, all but ending Cousins' time with the Redskins. Cousins has been solid for a few years now, and it appears many teams believe he could be the man for them.
Another Quarterback that is expected to be a hot topic of conversation this offseason is Super Bowl MVP, Nick Foles. Foles started 2017 as a backup to Carson Wentz in Philly, and Wentz is expected to take over the reins to the offense, once he recovers from ACL and LCL injuries which forced Foles into the starting role for the Eagles postseason run. Foles accomplished every player's dream and became Super Bowl MVP. His stock will never be higher than it is right now, and Philly will most likely be listening to trade offers for Foles all offseason long.
While these two may be the biggest names on the market, players like Sam Bradford, Teddy Bridgewater, Drew Brees, and Case Keenum are also out there and could be playing for a new team in 2018. The offseason is young, and front offices are still trying to figure out what direction they'd like to go. Chaos could ensue once franchises start taking action.