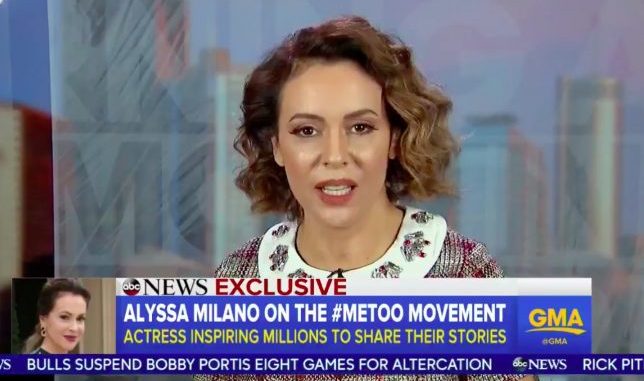 Sydney Krastins, Copy Editor |
For anyone browsing through any social media networks or news outlets in the past few weeks, it's been impossible to ignore one repeated theme that's causing a ripple of conversation and scandals all throughout the country: sexual harassment.
When actress Ashley Judd first spoke out on October 5 about Harvey Weinstein and his unwelcomed sexual advances, there was no way to predict the domino effect of courage and strength her confession would bring to other victims. Since then, not only have more than 40 other women come forward with similar allegations against Weinstein, but a countless surge of women who've experienced sexual harassment from other powerful men have also spoken up. Those accused include actors Ben and Casey Affleck, former president George H.W. Bush, MSNBC journalist Mark Halperin, and more.
It's a touchy subject, as proven by the strong reactions of the public at large. On the more unfortunate side, there are responses like Woody Allen's, who expressed in an interview with BBC the importance of avoiding a sort of "witch hunt atmosphere" in which "every guy in an office who winks at a woman is suddenly having to call a lawyer to defend himself."
While this sentiment may be common and come off as a defense of innocent men, Allen cannot be received as an outlier of the situation given he has received similar accusations.
In a disheartening survey by Instamotor, one fourth of 750 men surveyed reported that they did not think that the recent increase of conversations regarding sexual assault were justified. Just as sexual assault is not exclusive to Hollywood, Allen's reductive, rape apologist comments are unfortunately more common than one would want to believe.
To some, these Hollywood scandals may still feel far away and irrelevant to their own personal life.  Most people never spend time with a big-time movie producer or actor. But responses from the public have proven that sexual assault is palliated anywhere and everywhere.
In response, the hashtag #MeToo has blown up on social media platforms like Twitter and Facebook. This trend is also a powerful, far-reaching method for both women and men to stand in solidarity and voice their personal experiences with sexual assault, abuse, and harassment.
The idea was kickstarted by actress Alyssa Milano, who on October 15 tweeted, "Suggested by a friend: 'If all the women who have been sexually harassed or assaulted wrote 'Me too' as a status, we might give people a sense of the magnitude of the problem.'"
Since, over 1.7 million tweets have been posted containing #MeToo, making it evident that this issue is prevalent — and yet stigmatized — in society.
"There's normalization and validation in this movement, as it takes away the shame, secrecy, and stigma that is so common in situations of abuse," said Joyce Marter, therapist and founder of multi-site counseling center Urban Balance.
"I think it is a good thing," Marter told CNN.
Twitter user @allieciamc tweeted: "I don't know if I will ever have the strength to share my story like I've read stories other women have shared but I applaud all of you who have shared or spoken up, you are so brave. I don't feel all alone when I read these stories. #MeToo."
When considering how the confession of one woman, Ashley Judd, inspired so many others to share their own stories despite the backlash, it's understandable that the normalization of speaking about sexual violence is something positive and empowering. If survivors feel less afraid about receiving criticism or doubt when coming forward, then there's a much better chance that they can face their transgressors and stop future assaults.
The National Sexual Violence Resource Center reported that more than 90 percent of college-aged sexual assault victims don't report the assault. One in five women and one in 16 men will be sexually assaulted during their time in college. This is not a small pool of students we're talking about. Think of any five female peers you know personally. Chances are, one of them has been a victim. Rape survivors are silently haunted, and they can be found anywhere.
This hashtag is just the beginning. Now that the conversation has become more widespread, people can recognize how common this issue is and progress can be made.
On October 28, Italian Actress Asia Argento tweeted, "To all the victims of sexual abuse: we are victorious. We are changing the world. We are slaying monsters. The war has just begun. #MeToo."