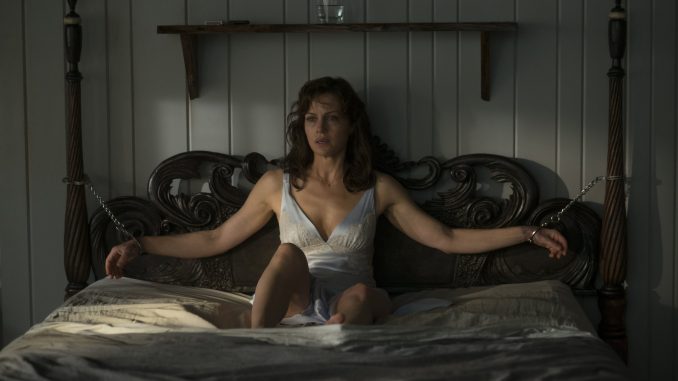 Tom Capone | Contributing Writer
2017 has been the year of Stephen King movies. It has seen the release of both the first installment of "The Dark Tower," and "IT," two very high profile adaptations. But "Gerald's Game" is worthy of being mentioned in the same breath as those films.
"Gerald's Game" may not be considered one of the best films of the year, but it is definitely worth the hour and 45-minute runtime. The film makes the most of its small cast and limited setting. Carla Gugino and Bruce Greenwood anchor the film with their noteworthy performances. Carla Gugino spends most of the film handcuffed to a bed, unable to move, yet still renders a stunning performance.
The film centers around Gugino's and Greenwood's characters retreating to a secluded cabin in an attempt to rekindle their relationship. But when Gugino gets nervous after being handcuffed to the bed and asks to be let go, Greenwood suffers a heart attack and dies. Gugino must then figure out how to get out of the handcuffs and escape, all the while a starving dog outside waits for her to weaken.
Films with a limited settings tend to have a difficult time keeping the viewer's attention. "Gerald's Game" does manage to make its one setting intriguing enough to keep one watching, but it may not be enough to entice multiple viewings.
Smart editing inserts dream sequences and flashbacks into the plot, aiding in keeping viewer interest high. The editing of the film also gives it a good pacing. Each shot flows into the next, both setting up the next shot and relating it to the previous at the same time. The cinematography is similarly noteworthy. Helmed by Michael Fimognari, who has worked with director Mike Flanagan before, on films such as "Oculus," "Before I Wake," and "Ouija: Origin of Evil."
"Gerald's Game" continues the trend of Fimognari's and Flanagan's collaborations by creating a horror film where each shot contributes to the story, just like their past collaborations.
One of the biggest grievances regarding horror films is their tendency to be formulaic. However, Flanagan manages to create horror films that do not rely on the same tropes that others use. He understands that the best horror films do not just have scary scenes but also have a scary atmosphere. "Gerald's Game" marks another project by Flanagan and Fimognari where the cinematography enhances the plot of the film, a trait not often found in horror films.
These coinciding elements make "Gerald's Games" a great film to watch; even if it doesn't necessarily warrant a re-watch, it deserves a spot on everyone's watch list. This earns the film a score of six and a half out of ten.