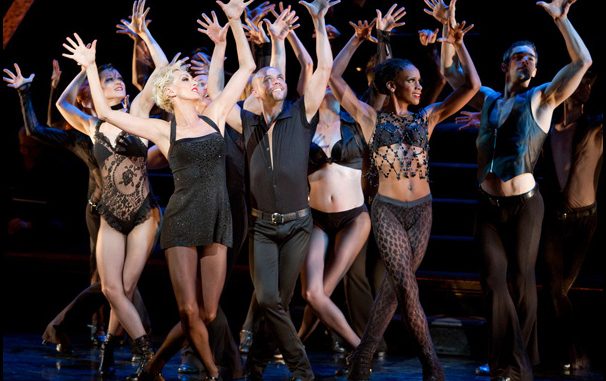 Alexandria La Flair, Staff Writer |
On a chilly April 1 at 7:00 a.m., roughly 100 students piled onto two Oneonta buses, eager to take on the Big Apple and see the famous production of "Chicago."
The Ambassador Theatre on W. 49th Street is one of the smaller theatres in New York, but none the less filled with history. It was built in 1921 and is still owned by the original company that built it. Of course, the size of the theatre did not take away from the show; instead, it added a sort of intimacy you may not find in other venues.
We sat high up in the mezzanine, which allowed us to see the entirety of the stage. It opened with co-star Velma Kelly, a vaudeville woman who murdered her husband and sister when she found them in bed together, performing "All That Jazz." We quickly noticed the band, which usually resides in the pit, was actually on the stage as part of the show (throughout the production, they were recognized and never left center stage)! Then the second co-star, Roxie Hart, a wannabe star, caught up in the murder she committed of her secret lover that her husband believes was just a burglar. The rest of the show goes on to follow the journey of how the two attempt to continue their fame while stuck in jail and through their trials in Chicago in the mid-1920s. The male and female ensemble played many characters including jailbirds and news reporters, which as an avid theatre goer was much appreciated.
As for the technical pieces of the show, the scenery and artwork were limited. No physical scenery was used except for lights to change color, patterns, and focus. The props were limited to some chairs and a few added pieces for the major musical numbers. The same went with the costumes, which were black and unchanging. But with that, I believe it added to the overall show. We were essentially forced to focus solely on the dancing. Their moves were flawless and connected with the jazzy music, so it was hard to stay seated! Additionally, the show was surprisingly hilarious. The innuendoes and jokes were refreshing for what was supposed to be a show about lies and murder.
Every semester the SA continues to produce wonderful trips like these for a fraction of what it would cost to take a bus to the city for a Broadway show. This trip was a mere $40 for a day of traveling, exploring, and seeing one of Broadway's longest running productions! Keep your eyes open for next year's trips.