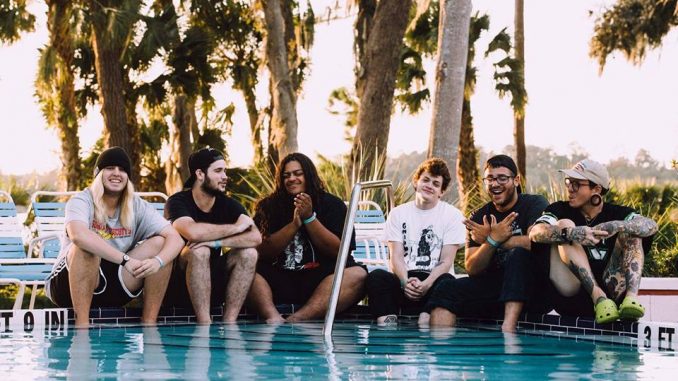 David Anderson, Staff Writer |
This past Saturday, April 1, The Music Industry Club hosted the nudist punk rock band, Keep Flying, with openers BANDERSON, Rootkit Disaster, Bedmakers, and Ladder Match. The event went from 6:30 p.m. to 9:30 p.m. and took place in Fine Arts Room M201.
The evening opened with student band BANDERSON, who, oddly enough, didn't play any music. Band bass player, Sam Flinton, took most of their set drawing an elaborate sketch of Bigfoot while the others skinned potatoes for the upcoming harvest feast. Only joking, of course, but that is totally BANDERSON's aesthetic.
The Red Dragon Records' featured artist this year, Rootkit Disaster, followed BANDERSON, playing their ferocious punk rock and Irish anthems, even including a Streetlight Manifesto cover. Rootkit Disaster features Andrew Loffler on bass and vocals, Brian Dusseault on guitar and vocals, and Tommy Sanders on drums. They are in the process of recording their first full-length album through the school's Red Dragon Records label which will be released sometime this summer.
Bedmakers is a hardcore band from Long Island, featuring the talents of Gerry Windus, Stevie Lomangino, and Sam Long. Their set was notably brief, but, despite having just three members their performance was energetic and intense. They have released three tracks on Bandcamp since February of last year and are in the process of recording their first EP.
The fourth act, melodic punk band Ladder Match, contains three Oneonta alumni, including the former president of the Music Industry Club, Ellio Vezza. Ladder Match played a ferocious set which included numerous shout-outs to current and past Music Industry Club members. In between songs, the members cautioned the audience that the real world is terrible and that its best to fail as many classes as possible and stay in college forever.
The night closed with Blairstown, NJ based band Keep Flying. These punk rockers keep things interesting by including a horn section in their line-up. Featuring the talents of Henry Menzel, DJ  Menzel, Michael Coulson, John James Ryan Jr., Charlie Bruno and Peter Vriones, the band put on a top-notch performance for anyone who enjoys melodic punk. The band has just released their newest recording, "Follow Your Nightmares," and will be touring the U.S. over the next several months.