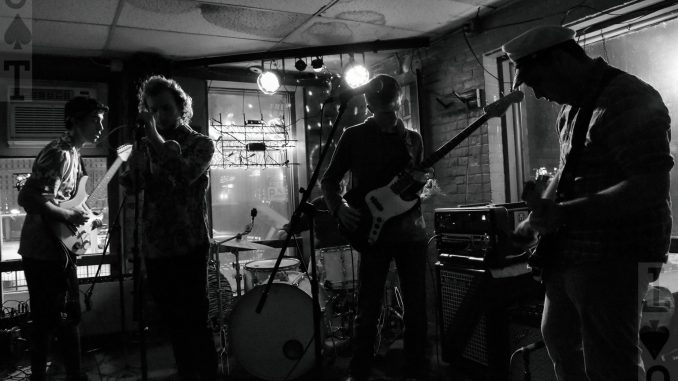 Contributing Writer, Mike McDonnell |
The Mariguanas is a psychedelic rock band that has taken the SUNY Oneonta music scene by storm. The band consists of Nick Abushady on vocals, Derek Moss on guitar, Scott McCann on guitar and theremin, Gabe Biss on bass (and on some occasions, drums), and Joey Maltese on drums. Some of their past performances include the Ninash Foundation Benefit Show, Cans for Bands, and the Election Distraction show.
I sat down with the band this past Thursday to get to know more about them and what has contributed to their growing popularity. Unfortunately, Gabe could not be at the interview due to scheduling conflicts.
Mike: Tell me how The Mariguanas came to be.
Derek: We were a Rock Combo band, so we were thrown together. I knew Scott from high school. I met Nick when he showed up to a Funk Band rehearsal. Joey was given to us, and Gabe was my longtime friend in Oneonta.
M: Where did the name "Mariguanas" come from?
Nick: We were thinking about things that we like, and Derek said, "Marijuana Iguanas," and I was like, "Let's combine them!"
M: What are some artists that inspire your work? 
D: The groups we talk about the most are Arctic Monkeys, Rage Against the Machine, Rebelution, and the Red Hot Chili Peppers.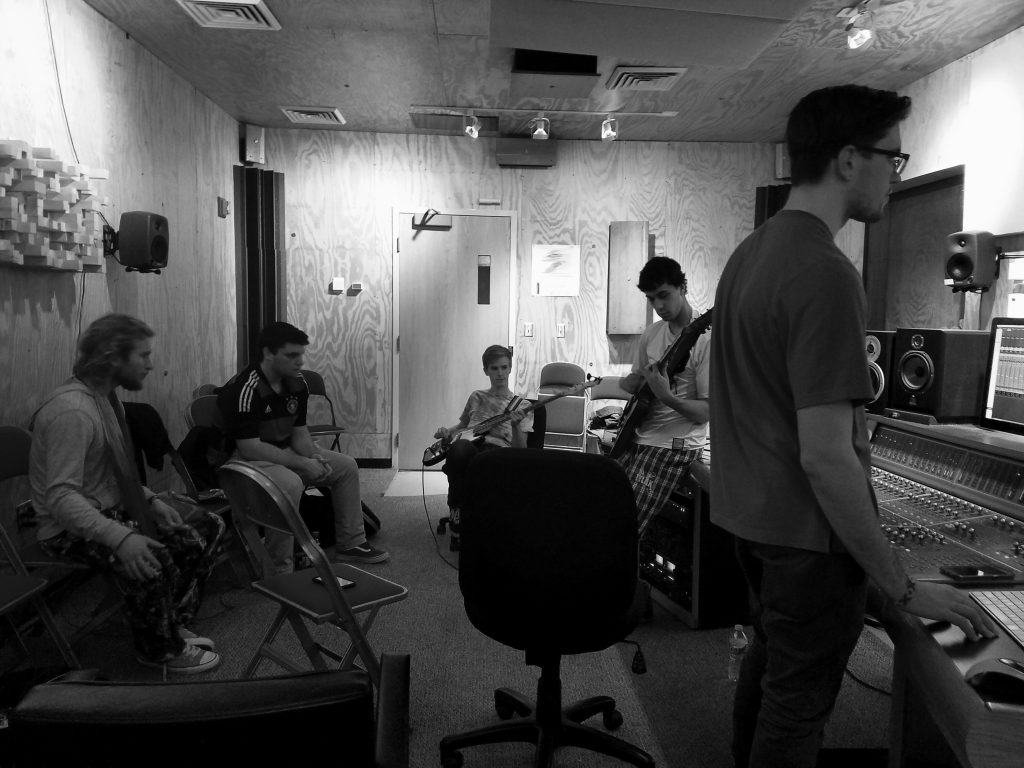 M: What goes into writing a song by The Mariguanas?
D: A lot of times, it starts with one of us playing a riff, and we say, "Keep playing that." And we formulate that riff into a section of a song. It is different every time, but we do have a system. There are always those times when it clicks and we're just like, we know that's gonna be the next song.
M: What could a fan, current or potential, expect at a Mariguanas show?
Scott: A musical explosion! We're very experimental with our sounds and visuals.
N: It's a ruckus. We're trying to rile people up. I want people to come to our shows, leave our shows, and be like, "Yo, that was crazy!"
D: We usually try to get people excited and jump around.
M: Who's the band sweetheart?
S: Nick's good at talking to the girls, but Gabe's the cutie behind the bass.
M: What's one performance you guys hope to do in the future?
S: Definitely OH-fest.
N: I'm trying to headline Madison Square Garden.
D: I wanna play the revival of Woodstock.
M: What's your favorite song to perform, and how would you describe it to someone who's never heard it before?
D: Covers are fun. I've always enjoyed playing "In One Ear" by Cage the Elephant. When we were a Rock Combo group, we used to play "Testify" by Rage Against the Machine. That was definitely my favorite.
Joe: "Banger" is definitely my favorite.
M: What is some advice you would give to any up-and-coming bands looking to get popular?
S: Mesh well together. You have to have a good chemistry with your band, like we're really tight together. Support other bands.
D: Make connections with people, but make genuine connections. Don't word vomit about your music to people you just met. Try to make a friend, and talk to them about music. I would also focus on your songwriting. Browse in your head for all the musical ideas you can think of and try them out.
N: It's not a competition. If you're being yourself, then you're unique. No one's going to be doing what you're doing.
M: When is your next performance going to be?
D: We're gonna play the SHIFT Benefit Concert on April 13 and hopefully OH-fest.
N: We're mainly trying to work in the studio right now.
Be sure to like the Mariguanas on Facebook and follow their Instagram, the_mariguanas.