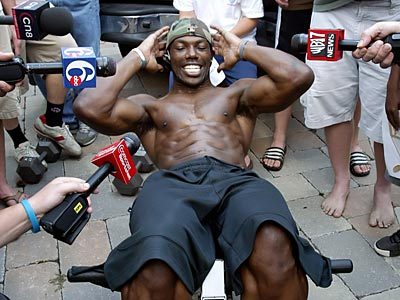 Wyatt Cushman, Staff Writer | 
On Saturday, February 4, the NFL's Hall of Fame Class of 2017 was announced. This year's inductees include: running back LaDainian Tomlinson, quarterback Kurt Warner, running back Terrell Davis, defensive end Jason Taylor, kicker Morten Andersen, safety Kenny Easley, and Dallas Cowboys owner Jerry Jones. All of these men are well deserving of a bust in Canton, however the most controversial topic after the announcement was about someone not on this list. Long time NFL wide receiver Terrell Owens, in his second year of eligibility, was not among the select few to be enshrined in the hall this upcoming August. Many people think that T.O. should be and deserves this recognition after the career he put together. He has more impressive career stats than almost anyone who has ever played, yet he remains on the outside looking in.
Owens played for five teams over his fifteen years in the NFL. He compiled 1,078 receptions (eighth most all-time), 15,934 yards (second most all-time), and 153 touchdowns (third most all-time). In addition to that, Owens was selected to six Pro Bowls and was named a First Team All-Pro five times. So why isn't Owens in the Hall of Fame with these impressive numbers? Is it because he didn't win the big one? Owens played in one Super Bowl, Super Bowl XXXIX with the Philadelphia Eagles, but did not walk off a winner. That shouldn't keep him from getting in though. Of this year's inductees, four never ended a season holding the Lombardi Trophy. Could another reason be because he caused too much drama off the field? He was the center of attention during the week. Owens once gave an interview while doing sit-ups in a driveway, and was rumored to have attempted suicide while with the Dallas Cowboys in 2006. Now of course drama isn't ideal for any NFL franchise, but even with these distractions, teams still wanted Owens when he became available because of the production he brought them on the field. Teams felt the reward, outweighed the risk.
One of this year's inductees, Jason Taylor had some kind words for T.O. when asked about the controversy surrounding his name. "I don't get it…His numbers, football wise? Come on. He stacks up for sure. He can wreck your team on Sunday. His all-time numbers stand and show he's one of the top receivers and I think a Pro Football Hall of Famer." Those are strong words coming from someone who had to play against Owens for years. It doesn't matter what everyone else thinks though. At the end of the day the voters still see the same numbers, and they still haven't selected Terrell Owens into the Hall of Fame. Would you put him in if you had a vote? For now all anyone can do is wait to see if next year will be the year for T.O, or if he'll have to endure yet another year of disappointment.