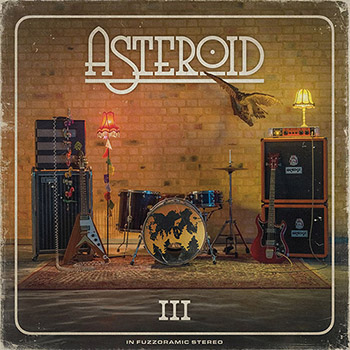 Rory Murray, Staff Writer
After a two year hiatus, the Swedish Psychedelic/Blues rock band Asteroid released their third studio album, Asteroid III, on Friday, November 11 for Fuzzorama Records. The band released their self-titled debut album in 2007, followed by Asteroid II in 2009, so this has been a long awaited release for fans of the band. The power trio from Örebro, Sweden features Robin Hirse on guitar/vocals, Johannes Nilsson on bass/vocals, and Jimmi Kohlscheen on drums. Hirse provides deep, distorted vocals and Nilsson adds contrast with his higher pitched, softer vocals. The two singers will often harmonize and sing counter-melodies with each other. Having two lead vocalists gives the band a unique sound and an opportunity to explore creating music in the spirit of different genres.
Asteroid III could perhaps be the best release by the band so far, even though their debut album holds a special place in my heart since lyrics from part of the song "Silver Leaf" are tattooed on my shoulder. The band's sound progresses towards a more ambient psychedelic vibe on III while still retaining the heavy fuzz-rock attitude of their previous releases. The album contains seven tracks, all of which have a runtime of around six minutes or more; the album's overall length is about 36 minutes, making it shorter than their previous releases, which were both around 50 minutes long.
The album begins with the track "Pale Moon," which starts with a bass and drum groove, including an eerie sounding slide guitar behind it that builds until the song's main riff begins. The song has a spacey feel and uses multiple guitar effects to its advantage. The second track from the album, "Last Days," was the first song released by the band when they announced their new album. The song begins with an echoey jam from the band that leads into a sparse verse with little instrumentals behind Robin Hirse's vocals. The song is reminiscent of songs off of their first album such as "The Great Unknown," with its stripped down verse and heavier choruses.
The next two tracks off of the album, "Til' Dawn" and "Wolf & Snake," bring back the Stoner rock sound that Asteroid started with. The songs feature heavy use of fuzz pedals on guitar and bass, which creates a thicker, more distorted sound, with softer instrumental breaks providing contrast to the heavy riffs. "Wolf & Snake" is my favorite song from the album as it encompasses the evolution of their sound from all of their previous works into one. This track has heavy guitar riffs reminiscent of their first EP, along with the more mature sound they developed on this album, and the extended guitar soloing that Hirse developed on their second album.
The album's final track, "Mr. Strange," sounds like it's straight out of the seventies. This tune definitely takes influence from legendary Hard Rock acts such as Led Zeppelin, Rainbow, and Black Sabbath. The track has a catchy verse and is practically more guitar solo than song; it is the perfect way to end the album.
Asteroid III has been well received by critics—Swedish magazine New Noise gave it a 9/10 rating and its release was highly anticipated. Overall, I think the band's sound has continued to grow and this is their best release yet. I would recommend this album to any fans of classic rock or those who are looking to explore new areas of music.