Campus News
Cheyenne Dorsagno
Staff Writer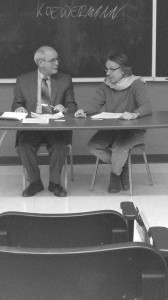 Many students do not know their own rights. This leaves them open to exploitation. The Young Americans for Liberty hosted a Know Your Rights seminar on Wednesday, April 1, to give students an opportunity to learn and ask questions about their rights as students. Mr. Hegeman, a local attorney who has practiced for 35 years, and Dr. Achim Koeddermann, a philosophy professor at SUNY Oneonta, participated in the Know Your Rights seminar.
Dr. Koeddermann defined rights as "socially established ways of acting and being treated." In reality, procedures and rules are different for students on and off campus. In many ways, students are not treated as adults but are instead placed in a separate category.
During the seminar, the Young Americans for Liberty proposed a series of troubling scenarios for Hegeman and asked him to advise students on the best course of action. His main advice throughout the night was to remain polite because many have gotten themselves out of a tough spot through the use of diplomacy.
If a police officer comes to a student's dorm, it is up to the student whether or not to grant them permission to enter. It may be in the student's best interest to talk to the officer outside of their dorm room. Police may, however, ask for a warrant by the Vice President of Student Development to enter the room once a student has denied them access. Hegeman warns that it may be in a student's best interest to be up front with an officer rather than making the officer get a warrant.
In the case of public marijuana smoking, a misdemeanor, Hegeman laughingly advised students to "never offer a cop a hit!" If a student smells like marijuana, that's seen as reasonable suspicion by police, which gives them grounds to search the person.
Students have to make a lot of judgement calls when they find themselves in a difficult situation with an officer. As always, a student has the right to refuse to speak, but should state that they will exercise that right before doing so. This could help students avoid incriminating themselves or escalating the situation.
Hegeman also warned that, in most cases, people should not refuse to take a breathalyzer test. Even if one has a blood alcohol content between .08 and .17 (considered as a driving while intoxicated charge), most people can reduce the charge to a driving while ability impaired if they have a clean history and are cooperative. With a BAC of .18 or higher there is a very serious charge of aggravated driving while intoxicated which leads to a year-long suspension of one's driver's license.
If a student believes that they were following all of the traffic laws and were stopped unjustly, they could argue in court that there was no probable cause for the stop and possibly have the charge dropped. Hegeman says that some tickets may be entirely dismissed if the offender takes a defensive driving course.
If a student is not driving but is simply intoxicated, they cannot get in trouble as long as they are not in possession of illegal substances or causing a disturbance.
Dr. Koeddermann addressed the situation of police checkpoints, which he believes are constitutional because they do not profile certain types of people but, instead, stop all drivers.
Dr. Koeddermann was disappointed, however, that no one addressed the student right he felt was most vulnerable–free speech. He brought up the issue of unrecognized Greek organizations, those which the school has not approved as legitimate and "illegally" use Greek letters affiliated with recognized organizations. They have had their shirts banned on campus and some recognized pledges can get in trouble for being seen with these outside groups. This year, Dixie State University students were stopped from posting promotional flyers for their Young Americans for Liberty club. These posters mildly criticized Barack Obama, telling students to not "be consumed by the state." Despite the controversial content, freedom of speech is a constitutional right and the suppression of their statement only further revealed the reality of authoritative control.
Students have a responsibility to learn their rights since the incriminator will not necessarily inform the student of those rights. SUNY Oneonta does not have a Professor of Law like many other schools. Dr. Koeddermann explained that it is the duty of the college to make sure that students are aware of their rights and if they don't, students should demand to be taught. Ultimately, it is up to the students to defend themselves and fight if they want to establish a change in what is recognized as their rights.
The Young Americans for Liberty encouraged students who were interested in discussing, debating, promoting or being educated on certain political matters to meet with the Young Americans for Liberty in Schumacher 109 on Tuesdays at 3:30 p.m.