Richie Feathers, Managing Editor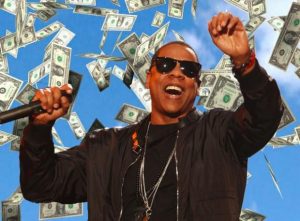 The current frontier of music streaming has shifted yet again with the re-launch of rapper Jay Z's new service, Tidal, on March 30. Billed as "the first ever artist-owned, global music and entertainment platform," Tidal, in partnership with Sprint, offers lossless (read: higher quality) audio and video for a monthly subscription of $19.95. The otherwise popular model of having a free, ad-supported option is not available.
According to the Record Industry Association of America (RIAA), the music streaming marketplace grew in revenue from $1.4 billion in 2013 to $1.9 billion last year. This impressive growth, however, has come with a cost.
Rolling Stone magazine recently reported that CD sales have only continued to drop–13 percent to be exact, as stated in RIAA's latest report–and that iTunes' model of paying per download declined from $2.8 billion to $2.6 billion.
While leading streaming service Spotify lauds itself for getting people to pay for music again, its business model has not been without controversy. For many fans and listeners, paying $10 a month, if at all, for unlimited access to a large amount of music is a justifiable reason for giving up ownership over it. For many artists though, it's a different story.
Specifically, according to Spotify's website, after collecting its share of 30 percent of revenue, rights holders (labels, publishers, distributors and in rare cases, independent artists) are only paid $0.006 to $0.0084 per stream.
To look at it another way, if a song is streamed 10,000 times, the rights holders might be paid about $84. That's before these royalties are further divided among other parties, eventually going to the artist.
Jay Z's new service though, which was originally owned by Swedish company Aspiro AB before the rapper's Project Panther Bidco company purchased it for $54 million, capitalizes on its primary focus of being run and owned by the artists themselves. Tidal's impressive lineup of co-owners includes Alicia Keys, Win Butler and Regine Chassagne (Arcade Fire), Beyonce, Calvin Harris, Chris Martin (Coldplay), Daft Punk, Deadmau5, Jack White, J. Cole, Jason Aldean, Kanye West, Madonna, Nicki Minaj, Rihanna and Usher–each of whom own three percent of company equity, according to Rolling Stone.
Speaking at the star-studded press release on March 30, Alicia Keys explained that Tidal "goes beyond commerce. It goes beyond technology. Our intent is to preserve music's importance in our lives."
Aside from CD-quality audio, the service will offer exclusive content from its artists, expert-curated playlists and editorial and can be accessed without Internet connection. In addition, Taylor Swift, who publicly removed her albums from Spotify last year, will make her music available on the site. However, the service also has its doubters.
Media outlets and figures in the music business have expressed a reluctance to fully believe that Tidal stands a legitimate chance at competing with Spotify. For one, the monthly subscription of $19.95 might hinder users who are used to paying $10. Many also doubt that listeners will notice, if even care, that the music is of a higher quality.
Others don't think exclusive content from Tidal's artists will be enough to entice listeners. According to online blog Stereogum, as of March 31 there were only eight offerings on Tidal, including Rihanna's latest song "Bitch Better Have My Money," Daft Punk's nine-year-old film Electromana and a few "lazy" playlists from Beyonce, Martin and Aldean.
What Tidal does have however, is a firm belief that it's "the future of music."
At the press release, spokeswoman Vania Schlogel stated, "Today marks the true beginning of a mission to change the status quo, to re-establish the value of music and importantly, to create a place that brings artists and fans together."
It's "about bringing humanity back to the artist," said Madonna in a promotional video. "[Streaming services are] the carrier, we're the artist. Somehow, things shifted and we went into the background–and it has to come forward."
In the same video, Beyonce said, "When you put this many talented, creative minds together, riffing off each other, sharing our concerns, things are going to change."
It's certainly exciting to see all these big-name stars on one stage–"'The Avengers' of music," as Daft Punk said. But despite the well-intentioned mission of Tidal, its success will ultimately depend on how many users it can convert from Spotify and other services.
Despite the music streaming market only becoming more crowded in the few, short years since it started, it's still difficult to predict the overall effectiveness that Tidal's take on the business model will have.
It has the style, but only time will tell if it brings the substance too.