Tom Santangelo, Contributing Writer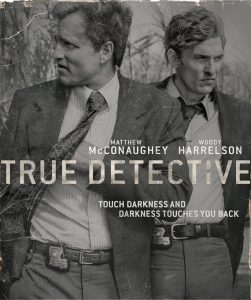 On Sunday March 9, HBO's original television series "True Detective" ended its first official season. The critically acclaimed series stars actors Matthew McConaughey and Woody Harrelson as two Louisiana State homicide detectives.
For those who have not seen the show, the story follows the lives of Detectives "Rust" Cohle (McConaughey) and Marty Hart (Harrelson) in their investigation to catch a serial killer who is terrorizing Louisiana. The show takes place over a seventeen year time span from 1995 to 2012 and is constantly switching time periods, using flashbacks to show the audience the evolved relationship between the two detectives, their personal struggles and other trials and tribulations they've had to overcome over the years to catch the serial killer.
Since its premier in January, "True Detective" has captivated audiences and critics alike, being hailed as possibly the best television crime drama ever to hit television. With rave reviews from critics in publications such as Entertainment Weekly, Rolling Stone, The LA Times, The New York Times and The Wall Street Journal, True Detective has been praised for its impressive acting and character development, masterful cinematography, camera work and its uniquely crafted script and storyline.
Much of the show's success can be accredited to its creator, Nick Pizzolto. Pizzolto is a newcomer to the television industry, previously a professor of fiction and literature at UNC Chapel Hill and the University of Chicago. Also a published author, Pizzolto wrote the first episodes of "True Detective" back in 2011. His idea grew, and eventually in 2012 he had an eight-episode season ready to pitch to HBO. The network ultimately picked up the show and completed shooting in 2013, ready to premiere in January of 2014.
What really sets "True Detective" apart from other television shows are the performances by McConaughey and Harrelson. Harrelson's character is an experienced detective who hides his constant battle to balance the life of a homicide detective and a family man. McConaughey's character is much more troubled. Cohle is an alcoholic, pill-popping insomniac who often has very strange visions and an overall cynical view of life. He is ostracized by his fellow detectives and has many inner demons of his own to cope with.
Together, the chemistry between the two actors is unlike anything audiences have seen before in a crime drama. The constant comedic banter, intense action sequences and wonderfully crafted dialogue allow the actors to completely emmerse themselves into these characters, making the audience believe that they can be played by no one else.
McConaughey's performance was so impressive that he is already slated to win the Emmy Award for Outstanding Lead Actor in a Drama Series. Coming off an Oscar win for Best Actor in a Leading Role for his performance in "Dallas Buyers Club," if McConaughey were to win the Emmy it would be the first time in history that an actor has won both awards in the same year. This would undoubtedly add to the mid-career-revival McConaughey seems to be experiencing.
Yet, despite audiences becoming accustomed to McConaughey and Harrelson as the main characters, the two will not be returning for a second season. One of the most interesting aspects of the program is that Pizzolto has written True Detective as an anthology series. Each season will focus on different characters in a different location with a completely different story. Speculation for next season has already begun, with audience's saying that the story line, along with McConaughey and Harrelson's performances, can never be lived up to. Regardless, Pizzolto has already given hints about next season, but nothing has been determined officially as of yet. It will be interesting to see which actors will be cast for season two, but until then, audiences can only relive the story of "Rust" Cohle and Marty Hart.
So if you're looking for a new show to watch and like mystery, great acting, tension, suspense and being highly entertained, then I would definitely suggest watching True Detective. Shows like this come around only every so often and it would be a shame to miss out on such a modern television classic.