Dominick Bellezza, Staff Writer
On Saturday February 1, The SUNY Oneonta Music Department paired with the Apollo Music Club to put on a classic production of Henry Purcell's "The Fairy Queen," a Baroque opera originally inspired by William Shakespeare's classic comedy, "A Midsummer Night's Dream." Taking place in Goodrich Theatre, both the Music Department and the Apollo Music Club did a great job of piecing together the necessary bits to present such an ambitious show. The actors were beautifully complemented by singers, dancers and an orchestra, a combination that kept the audience entranced throughout the entire performance.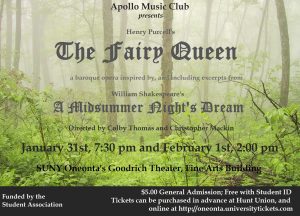 The show was altered in order to present it as a more contemporary piece that would seem more relatable to both the audience and the performers. Professor Colby Thomas also mentioned that they used a "workshop approach." She and her fellow coordinators chose to let the orchestral music bring the past to life and used it to introduce every facet of the production, while the performers presented hip mannerisms juxtaposed with the Shakespearean language for a more modern style. Together, they blended very well, with a full complement of solos, duets and groups, and a variety of sounds and vocal tones. After seeing the opera, this approach proved to be effective in bringing forward a resurgence of the classic through a modern looking glass.
One of the most interesting aspects of the production was the dynamic range of majors exhibited by the group of performers. While you may expect many of the cast's majors to be in the arts, students represented all academic fields. In addition, some students also had extensive experience in the world of theater, including singer Steve Fabrizio, who toured nationally in the show, "Jesus Christ Superstar." Yet, despite their educational focus, the actors, though few, had the audience intrigued with the story and entertained with the Shakespearean comic relief. Everyone did a great job of maintaining the classic work while promoting a new-fangled, contemporary performance.
Whether you're a seasoned operagoer or not, seeing "The Fairy Queen" was a great experience. Art can be displayed in a wide variety of ways and to see so many different areas represented in one place is something anyone can appreciate. Even if it is not your cup of tea it is worth sitting down and experiencing something out of your comfort zone. Bravo!