Hannah Griesel, Staff Writer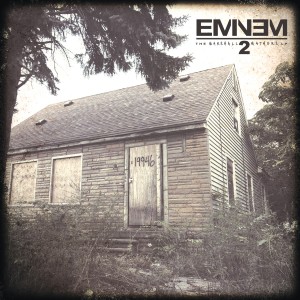 When Eminem burst onto the scene in 1999 with his mega-hit, "My Name Is," it was impossible not to know who he was, and soon after, impossible not to know the grim backstory that inspired many of his songs. While life with an abusive mother, troubles with an ex-wife and problems with the law weren't the best of circumstances, they fueled Eminem and helped him create angry and comical music that many people were able to relate to. The next year, he released "The Marshall Mathers LP" and solidified his place at the top with hits like "The Real Slim Shady" and "Stan." In "The Way I Am," he discussed all of the negativity that came with being in his place, including fans that wouldn't leave him alone, a record label that just wanted more hits and being blamed for problems that young people have. After more success, Eminem took a hiatus from music in 2005, unsure of whether or not it would be indefinite. Luckily for his fans, he released "Relapse" in 2009, followed by "Recovery" in 2010. Although neither received the commercial success of his earlier works, they were both relatively well-acclaimed.
His new album, "The Marshall Mathers LP 2," features a few songs that sound similar to his pre-hiatus music, as well as songs that are closer to his more recent releases. Many tracks have rock influences and female-led choruses. Among those featured on the album are Skylar Grey, Rihanna, Nate Reuss (of Fun) and Kendrick Lamar. "The Monster" with Rihanna sounds like it could be on the radio already and steers away from the effect Eminem seems to be going for overall, while "Headlights" features Reuss and sounds more like a song that would be on a Fun album than on Eminem's.
There are many references to his older music throughout, including a perspective of Stan's brother in a line from "My Name Is" and a sample of "The Real Slim Shady." In "Bad Guy" he makes fun of himself for his intentions in choosing the album title, rapping, "And hey, here's a sequel to my Mathers LP/Just try to get people to buy."
The first single from the album, "Berzerk," was released in late summer. It features more of a Beastie Boys-style rapping, with rock beats and plenty of pop culture references that are expected of Eminem. It was generally received positively by Eminem fans, but felt like it fit more into the category of new Eminem than into the older music that he is trying to get back to.
The album takes on a more serious note on the emotional "Stronger Than I Was." Besides standing out as the only song on the album that is primarily sung, it shows a more vulnerable side of Eminem that he usually doesn't discuss so openly.
It's certainly an album that Eminem fans will enjoy as it encompasses elements from the tracks that made him a household name, as well as those from his more recent albums and current hip-hop styles. The purpose of the title is evident, as Eminem has made more of an effort to go back to his roots, but fails because he doesn't seem willing yet to let go of the pop-collaborations and rock riffs.