Sara Buturla, Staff Writer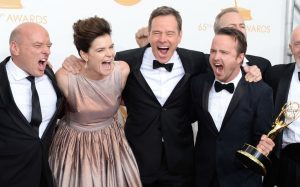 As always, the 65th annual Emmy awards were full of surprises. The event took place at The Nokia Theatre in Los Angeles, California on Sunday night, and right from the beginning there was no shortage of jaw-dropping moments.
The show started with Neil Patrick Harris, hosting for his second time, playing a montage of short clips of various television and movies before Conan O'Brien, Jane Lynch, Jimmy Fallon, and Jimmy Kimmel flooded the stage, throwing around jokes. Although it was a great bunch to kickstart the show, the first real comic relief came when the cameras focused on Tina Fey and Amy Poehler in their seats wearing 3D glasses and eating popcorn. A few moments later, "30 Rock" took home the award for Outstanding Writing in a Comedy Series.
A lot of the actual award winners this year were neither who the audience anticipated nor their favorites. Many people were surprised that Aaron Paul of AMC's "Breaking Bad" did not win for the "Outstanding Supporting Actor in a Drama Series" category when Bobby Cannavale from HBO's "Boardwalk Empire" did instead. Another surprise win was Jeff Daniels for "Outstanding Actor in a Drama Series" for his role in "The Newsroom." Daniels was up against crowd favorite Bryan Cranston from "Breaking Bad," Hugh Bonneville from "Downtown Abbey," Damiana Lewis from "Homeland," Kevin Spacey from "House of Cards," and Jon Hamm from "Mad Men".
Of course, Patrick Harris had his musical number thrown into the mix where he reminded the audience that the three hour show still had "90 minutes to go." Joining him on stage were Nathan Fillion and Sarah Silverman. Although the performance did not top Patrick Harris's musical number from the previous year, it did grasp the audience's attention. The "Outstanding Choreography" category was presented through a dance tribute to TV with stars of shows like "Mad Men," "Breaking Bad," "Game of Thrones," "The Big Bang Theory," and "Boardwalk Empire." Those who were in the dance included Derek Hough, Allison Holker, Warren Carlyle, Mandy Jo Moore, Napoleon and Tabitha Dumo, Travis Wall, and Sonya Tayeh.
In addition to the song and dance performances, as always, actors paid tribute to recently deceased members of the business. Jane Lynch spoke on behalf of "Glee" star Cory Monteith, saying "It is remarkable, and perhaps a little curious, how quickly TV shows become like family in some ways," and that "Cory was a beautiful soul." In addition, Michael J. Fox spoke to honor "Family Ties" creator Gary David Goldberg, Rob Reiner honored "All in the Family" co-star Jean Stapleton and Robin Williams honored "Mork & Mindy" co-star Jonathan Winters. A video montage also played, honoring the actors, producers, writers and everyone else in the business who passed away this past year.
The biggest wins of the night came in the categories of "Outstanding Comedy Series" and "Outstanding Drama Series." "Modern Family" took home the prize for "Outstanding Comedy Series" against shows like "Girls," "The Big Bang Theory," "Louie," "30 Rock," and "Veep". As for the "Outstanding Drama Series," "Breaking Bad" took home the title as the much deserved series aired it's second to last episode that night. Who will dominate TV next year?