Kailey Chambery, Contributing Writer
Sons of Anarchy has officially put itself on the map as a must-watch series with its highly anticipated sixth season, which premiered on September 10. The show is saturated in drama from scandalous love triangles to action packed gun fights, all taking place in a dirty motorcycle club. Last season left fans hanging as the finale portrayed brutal betrayal from all angles leaving President Jax Teller (Charlie Hunnam) with severed relationships throughout the club.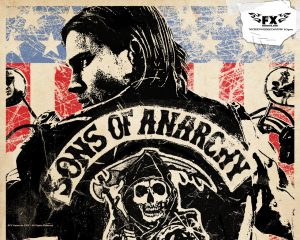 The kickoff episode sets the scene for quite an interesting season as viewers continue to witness broken ties left and right. Will Jax manage to keep his family in tact? Viewers were left wondering this after events led up to a steamy closing shot of Jax in bed with a possible new business partner. His wife Tara (Maggie Siff) remains in prison as she fights to prove her innocence in an assisted murder case.
How about the infamous Clay Morrow who's being blackmailed to choose between his motorcycle gang and his life? In Season five he was established without question as one of the biggest traitors, but his long history with the club still leaves audiences wondering if he'll truly go through with a plan that could be the end of SAMCRO.
Of course the show would not be what it is without the ambiguous Gemma Teller Morrow (Kate Sagal), who's rarely ever predictable with her crazy antics that only add more fuel to an already raging fire. Though her actions tend to constantly rock the boat, her intentions are unarguably set on protecting what she holds most dearly: her family. Sagal's husband, Kurt Sutter, who actually created the series, presents quite the production with no lack of illegal activities such as drug deals, gun smuggling and escort services.
That being said, its funny how fans still push for the Son's to come out on top as the good guys who are just fighting to protect their small town of Charming. Though it might sound hard for those new to the show to begin watching now, it only takes a single episode to get sucked into this fabulous drama that will only continue to grow in popularity as the story unravels. Sons of Anarchy airs Tuesday nights at 10 p.m. on FX Television Network.