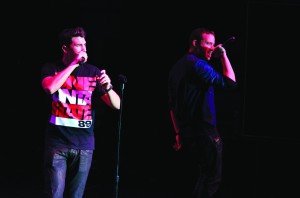 Alex Fredkin, Arts Editor
SUNY Oneonta's Student Association Activities Council (SAAC) welcomed students back to school this past Saturday with its big fall semester show at the Dewar Arena, featuring three diverse acts. Electro-pop duo Timeflies headlined, with pop-punk group Mayday Parade supporting. Opening was Hello, Seattle, a band comprised of SUNY Oneonta students, who won a competition for the slot. Their blend of catchy pop-rock warmed up the crowd for the next act.
Mayday Parade opened with their raucous track "Oh Well, Oh Well," which got the audience jumping and set the tone for their set. With the drummer pounding the crashes during the chorus and the singer's characteristic crooning, Mayday Parade definitely satisfied its audience. SUNY Oneonta senior, Tommy Sayre, enjoyed the performance, saying, "They were fun, played a good mix of older and newer songs, and had a great live show." The band played a quick set of just around forty-five minutes, and finished on a high note with "Jamie All Over," their most recognizable and arguably best song.
Switching up the musical palette, Timeflies took the stage last. The duo is a perfect representation of the current music scene, representing a mix of electronic, pop and rap to form a hybrid style that the band themselves can only sheepishly describe as "electro hip-pop dub-something," according to their website. The group consists of producer Rob Resnick, who also serves as hype man on stage, and the vocalist Cal Shapiro. Resnick's beats consist mainly of poppy electronic remixes of top 40 hits, with a mix of Ke$ha's "Die Young" and Rihanna's "We Found Love" being featured during the performance.
The other half of the duo, Shapiro, is a talented man, with a great singing voice and a surprisingly impressive ability to rap. His looks don't hurt the group's popularity with the female members of the audience , as every single girl I talked to told me she was his "number one fan."
Highlights of the set included the dubstep/pop track "Turn It Up," which features an unexpectedly heavy drop and sounded great on the arena's sound system. Their most popular song, "I Choose U," was also a crowd pleaser and had everyone singing it's bubbly chorus.
The group showcased their impressive diversity throughout the set. A short acoustic portion brought attention to Resnick's ability on the guitar and Shapiro's singing chops. Even more incredible was an extended freestyle rap by Shapiro in which he read off a sheet of paper and name-dropped a long series of Oneonta's most popular attractions. He referenced restaurants such as the Yellow Deli and Brooks BBQ, campus organizations such as Terps and even rival college Hartwick. This section won over any skeptics in the audience and drew loud cheers from his fans.
SUNY Oneonta senior Jenny Sosiewicz said, "I have been a fan of Timeflies since seeing his covers on YouTube, and seeing him live was pretty cool. He put on a good show and played all of his best songs. I loved how he was wearing an Oneonta t-shirt too. I want Timeflies to come back for Oh Fest!"
While the duo's style works for a wide demographic, they definitely enjoy playing to the college audience. Shapiro said he enjoys the vibe of the crowd and that it is more party-oriented, allowing them to let loose and have a little fun with the audience. He also went on to say that the group was humbled and honored to be voted by the students of the school as the fall act.
While an eclectic mix of acts ensured that there was something for everyone, the downside of the event was that not many students stayed for both acts. While Sayre came for Mayday Parade and left during Timeflies, Sosiewicz did the opposite, only arriving to see the headlining act. Nonetheless, each act undoubtedly entertained its separate fan bases. Overall, it was a successful show, drawing a good-sized crowd to the campus. Whether you enjoyed pop punk, hip-hop, EDM or just music in general, there was something for everyone at SUNY Oneonta for this Saturday night show.