Indiana Nash, News Editor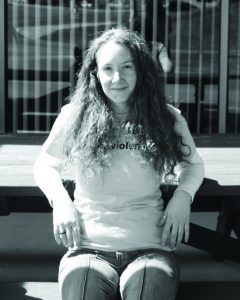 Rebecca Harrington, one of SUNY Oneonta's Health Educators, or health promoters, is quite a busy woman. As a health promoter, it is her job to encourage campus-wide awareness of any sort of health related issue: sexually transmitted infections, drug abuse, alcoholism, rape and even stress related issues. Besides promoting and making students conscious of the issues, Harrington also talks with students about some of the more gritty questions they have about sex.
Though she has her degree in music education and spent five years teaching, she found that her heart just wasn't in it. Harrington then began to work at the Violence Intervention program in Oneonta as their community educator. The position allowed her to go into schools and talk about health topics, such as sexual assault, in a way that a teacher could never approach it. The more she became involved with health education, the more her passion for it grew. While she was involved in the Violence Intervention program, she also sat in on a PAIRS (Prevention, Awareness and Intervention for Relationship Violence and Sexual Assault) committee at SUNY Oneonta. At the insistence of a friend, Harrington applied for the vacant health educator position and has loved it ever since.
Many in her position use fear as a motivator in their health campaigns, like those car crash demonstrations that are shown in high schools before prom to discourage drinking. However, Harrington prefers to use happiness as an incentive, saying "Fear is just not the most effective motivator . . . sex feels good so wouldn't you want to be able to keep your body healthy enough to keep having it for as long as possible?" Harrington is in charge of the CHOICES club, who many know because of the Happy Hump Day cart (which gives out free condoms every Wednesday). Besides this, Harrington also spearheaded the RE-Think program and the Know Violence program. All of these aim to promote a healthy sex life and help to prevent sexual assault and rape.
When you have questions about sex, who do you turn to? Many students go to their friends and siblings for advice, but that may not be the best solution. The health center is willing and able to counsel and talk to students at any point about sexual issues they may be having, whether the problems are physical or emotional. Students can even come to get advice on trying new sexual positions with their partner and how to approach that in the relationship. Another service the health center provides is direct contact with nursing professionals that can set up appointments for STI testing or sexual complications.
"Don't be ashamed of being sexually active. Our culture is very divided, the puritanical roots of the culture run deep. Especially for women, who are afraid of looking like sluts, there are social constraints that still exist. It's more important to be safe and not worry as much about social acceptance" says Harrington. Our student body is a homogeneous group; most of us are dealing with the same developmental issues and sexual problems. It's good to know that there are people like Harrington on campus who are more than willing to listen and give advice on such important topics that many feel uncomfortable discussing with others.