Reilly Van Dyke, Staff Writer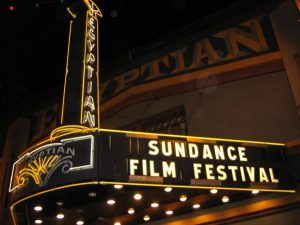 One of the largest independent film festivals in the United States, The Sundance Film Festival, takes place in Utah every year. Typically presented in Park City, Salt Lake City, Ogden or the Sundance Resort, this festival gives American and international film makers the chance to showcase their work. Some of the films in the week-long festival include documentaries, feature-length films and short-films. This year's festival took place from January 13 to January 27.
One of the most anticipated films for this year's festival was director Park-Chan Wook's "Stoker", which features American actress Nicole Kidman as an unstable widow, whose daughter, played by Mia Wasikowska, suspects something suspicious may be going on when her uncle comes to live with them after the death of her father. Depicted as a bone-chilling thriller, the tagline of the film is "Do Not Disturb The Family."
Last year, director Lynn Shelton's "Your Sister's Sister" was one of the favorite films of the festival, and she returned this year with "Touchy Feely." The film is starring Rosemarie DeWitt as a massage therapist whose sudden and mysterious opposition towards bodily contact with other people is preventing her from doing her job. Her uptight, emotionally shut down brother opens up a dental practice, and his clients begin seeking him out due to his healing touch. Starring other well-known actors such as Ellen Page, Josh Pais, Allison Janney and Ron Livingston, this comedy-drama depicts the self-discovery and individual journeys of two siblings.
Another film that took the lead as one of the stand-out films of The 2013 Sundance Film Festival was director Shane Carruth's "Upstream Color." While the film's trailer is refusing to give away any spoilers at all, the only thing viewers can be sure of is that the film is about toxic water and, according to the film's program, a woman who "is drawn into the life cycle of a presence that permeates the microscopic world." Possibly a drama, thriller, or a mix of the two with something of a science fiction issue thrown in, this film isn't one that anyone will easily be able to predict.
Director Naomi Foner, otherwise known as Naomi Gyllenhaal, mother of actor Jake and actress Maggie, wrote the screenplay for "Running on Empty, and brings her film "Very Good Girls" to this year's Sundance Festival. Starring "Twilight's" Dakota Fanning and Elizabeth Olsen, who also stared in last year's Sundance film "Liberal Arts", this is a story about the friendship between two girls that changes when they both fall for the same boy the summer before college.
In "The Necessary Death of Charlie Countryman" starring Shia LaBeouf and Evan Rachel Wood, director Fredrik Bond tells the story of a young American (played by LaBeouf) and a Romanian woman (played by Wood) in an action, comedy and romance film. Wood's character, Gabi, is married to a dangerous, violent and mentally unstable man. And then there's Charlie Countryman (LaBeouf), who is determined to do anything and everything he can in order to keep her out of harm's way and ultimately get her to safety.
While these are only a few of the films that were showcased at this year's Sundance Film Festival, they caught the attention of viewers and those that attended. Many directors from previous festivals have returned with new films. We can guess that some may even return to next year's festival with stories that will be equally as interesting.