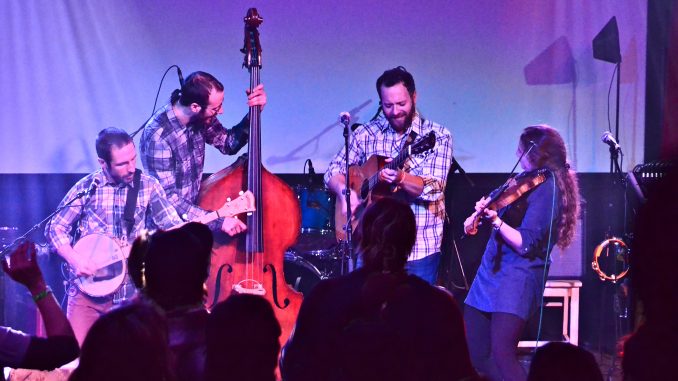 Michael Bonanni, Senior Staff Writer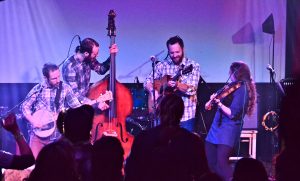 The Oneonta Theatre has returned and they brought with them some great bands that really shined on Saturday. This was the first show of the year since the Oneonta Theatre originally closed its doors, but it seemed like the entire town came out to show support and enjoy some really good folk and bluegrass. Every seat was filled and if a seat was empty, it was because that person was out in front dancing. There was also a good mixture between young and old.
This show opened up with a local band called The Phakers. This debut show of the year was also their big debut in front of an audience. While they played mostly covers, the young band set a precedent for the entire show in that everything defied expectations. The band seemed really in sync and definitely looked like they enjoyed every minute of their set. It should also be important to note that the lead guitarist and singer of the group is none other than SUNY Oneonta's own Dr. Richard Barberio of the political science department.
Following The Phakers was Driftwood, who sported a more unplugged and folk sound. They would probably be most comparable to bands like The Lumineers or Mumford & Sons. The big difference here though is that neither of those bands had a violin virtuoso with a great voice to match. Claire Byrne definitely raised eyebrows and lead singer/guitarist Dan Forsyth definitely kept the energy going with some really good vocals that helped drive the band's performance. One of the most defining moments of the night came from the dual between Byrne's violin and Joe Kollar's banjo. The amount of stomping and clapping in that room made for an awe-inspiring experience.
Lastly, Floodwood came onto the stage and kept the crowd on their feet. The band described their sound as being a twist on bluegrass and it definitely represented a refreshing take on the genre. Nick Piccininni provided some great vocals and even put the guitar away to show off violin skills of his own. The banjo playing could have been louder, but the times that it could be heard wrapped the set in that famous bluegrass sound.
Usually after a band plays, you'll have people asking for an encore and the band will come out and do a couple of more songs. Following the theme of "expect the unexpected" for this show, Piccininni called for both of the other bands to come back up and play two covers with them. This show could not have ended any better and in any other way but this. Even Dr. Barberio got to take lead vocals for a song. The violin playing, once again, got ridiculously awesome between both Piccininni and Byrne playing as a duo, and the night got a second stomping-violin solo moment.
Overall, this was a great start for the Oneonta Theatre's reopening and a great show from all of the bands. The concert was great in that people who didn't normally think anything highly of bluegrass or folk music got a really nice surprise. The best part was that everyone was having a great time, even for those who were sitting. It is this kind of show that really showed what the Oneonta Theatre is all about. Hopefully the bands will come back and continue defy expectations of folk and bluegrass for unsuspecting listeners.