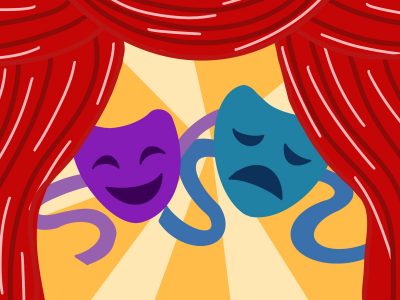 Riley Peru, Staff Writer
Just two weeks after the conclusion of "I & You", Mask and Hammer presented a collection of one-act plays written by David Ives called "All in the Timing". In this production, there were eight plays in one show. Act One consisted of five plays, while Act Two consisted of three plays that were a little longer in run length. Upon arrival, the stage was set with abstract props and dramatic structures across it and hung up above the props. The stage was brightly lit in retrospect to the scenes and the props that were being used. One final thing to note before continuing, each character had bright and dramatic costumes that matched the extravagant set design.
The first play was "Sure Thing", which contained two characters. Seamus Daly played Betty, while Marissa Marinick played Bill. In this short play, the two characters interact at a coffee shop. Bill is trying to ask Betty any way he can, and every time either of them says something that won't work, a bell is rung, and the conversation starts over. This process continues until eventually they have a conversation that is acceptable to them, and the scene ends with them calling the waiter over to check out. There was also an alternate character who would bounce in and out of the plays. Deemed "puppet master" in the program, this character would simply ring the bell when it was needed, played by Oskar Isaksson-Stahler.
The second play was "Mere Mortals", which followed three construction workers on their lunch break having a casual conversation. One of them says they are the missing baby they read about in the paper, the other two men also share who they secretly are. Frank was played by Brody Stockman, Charlie was played by Sean McCrane, and Joe was played by Ava Cancredi.
The third was "The Philadelphia", which took place in a restaurant. It follows Al, played by Ethan Graham, who is talking about how he is stuck in Los Angeles although located somewhere else. He runs into Mark, who is played by Seamus Daly. Mark is stuck in Philadelphia, and he must learn how to communicate with people while technically being stuck in Philadelphia. They talk with a waitress, played by Marissa Marinick, who gives the men a hard time while they are trying to order. This results in the men figuring out how to move forward. This play could be confusing if not paid close attention to, but nonetheless, it was comical either way.
The fourth was "Words, Words, Words", which follows three monkeys trapped in a room and are told to write. They have to recreate Shakespeare's "Hamlet", without knowing what it is. Milton, played by Sean McGrane, talks about how they should not complain about their situation. Swift and Kafka, played by Alex Dinardi and Ava Cancredi, discuss poisoning the doctor who took them, but in the end, continue to type away and create their own versions of Hamlet.
Following this play was the final one in the act, "Singular Kind of Guy", which had only one single character played by Jason O'Bourke. This play follows Mitch, a typewriter, and how he navigates his personal and love life. Once the performance ended, the intermission began.
Act two starts off with "English Made Simple", which talks about the underlying tones of English and how words mean different things in different circumstances. The voice was played by Oskar Isaksson-Stahler, Jill by Sarah Izzo, and Jack by Ethan Graham.
Following this was "Long Ago and Far Away", which was a more serious piece that deals with anxiety about leaving a place once called home. Laura was played by Lindsey McCreadie, Gus was played by Alex Dinardi, Jack was played by Achim Koeddermann, and the Landlady was played by Ava Cancredi.
Finally, the show ended with "Universal Language", a more upbeat and fun play dealing with a scammer and her rouse to get money out of Dawn, played by Emily Shufelt. Don was played by Tori Alfonso, and the Young Woman was played by Marissa Marinick.
The production team as well as the cast worked diligently to put on this show, and their efforts are made clear. It was a fantastic show all together. Stay tuned for the next production which will be in March of 2024.