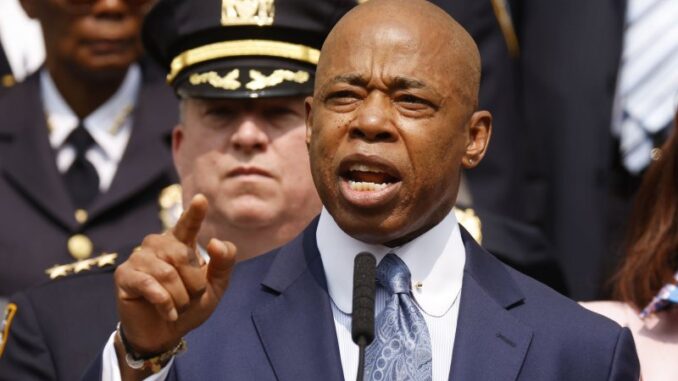 Maeve Bidonde, Staff Writer
On Thursday, Nov. 2, the search of Mayor Eric Adams' home raises questions about an investigation launched by the FBI and Federal Prosecutors of public corruption involving Mayor Adams. The FBI has been looking into whether or not Mayor Adams' 2021 election campaign conspired with the Turkish government to receive illegal foreign donations. The investigation came into public view when the home of campaign consultant Brianna Suggs was searched. Suggs is heavily involved in the efforts to advance Mayor Adams' agenda.
During the search three iPhones, two laptops, documents, and other pieces of evidence against Adams and Suggs were seized. Investigators also discovered a manila folder labeled "Eric Adams" and seven contribution card binders. The investigation is also looking into whether or not the campaign returned benefits to the construction companies employees and officials which included Turkish officials. On the day of the search, Mayor Adams was planning to travel to Washington D.C. in hopes of meeting with congress and address the growing concern of the Migrant Crisis. But when Adams caught wind of the search being conducted at his home, he canceled several meetings in Washington D.C. to rush back to New York before the media found out why.
Brianna Suggs and her father were at Suggs' home when the FBI arrived. Pulled to the side, Suggs was questioned by investigators while the raid occurred. Suggs has been working with Mayor Eric Adams since she was a tennager back in 2017. Suggs eventually subpoenaed to testify before a grand jury. As it turns out KSK Construction Group donated $14,000 to Mayor Adams' 2025 campaign. Suggs is likely not the first of officials to be aware and associated with Mayor Eric Adams' donation.
Back in September, Eric Ulrich, Mayor Adams' former buildings commissioner and senior, was indicted by Manhattan District Attorney Alvin Bragg on sixteen felony charges. Some of which include charges of conspiracy and bribery. In fact, over the summer Bragg indicted six other people, including a retired police inspector, for conspiring to funnel illegal donations into the 2021 campaign. It's unknown whether or not these cases are connected.
As of right now one of Mayor Adams' top aides is currently being investigated for their role in a violent altercation last month. The altercation happened at a migrant center in Manhattan. The name of this official remains unclear and will likely not be released to the public until further notice.
Currently Mayor Eric Adams has distanced himself from the investigations and plans to reschedule his canceled D.C. meetings. Any further plans will be decided once the mayor's office learns more about the investigation in the days to come. On further note, Brianna Suggs' father defends his daughter's innocence and strongly believes his daughter was tricked into committing illegal activity. No charges have been brought forward as the investigation is still ongoing.