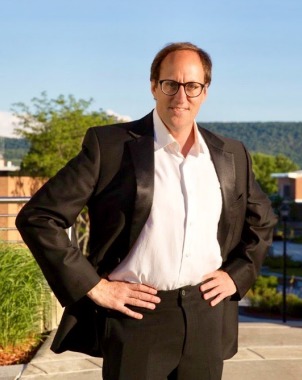 Lara Murray-Sterzel, Editor-In-Chief
Oneonta says goodbye to another member of our community. Dr. Timothy Newton, a beloved music professor and conductor, tragically died last week. Dr. Newton worked at Oneonta for fourteen years in the Music Department and participated in many musical associations. His passing was unexpected, leaving his staff and students in disbelief. But his memory hasn't been forgotten, Dr. Newton left a mark on this school which has inspired and keeps inspiring faculty in his field to pursue their dreams as well as possess a kind heart.
Dr. Newton was also known for sharing his talents outside the school grounds. Throughout the years he partook in international tours with the London Philharmonia Chorus, a prestigious ensemble, where Dr. Newton received media attention and developed valuable connections. It was through these connections that Dr. Newton was able to arrange trips to London, England with a few students to teach further about the world of music.
Dr. Joseph Pignato, Professor and Chair of the Music Department, described Dr. Newton as a gifted musician with many talents who really helped students become who they want to be and worked very hard in bringing out their best. Pignato said that Professor Newton really got to know the subject before teaching it to students. A skill driven from his love for the language of music. "I'd imagine it was in him from very, very young. But I got to know him when he came here as a faculty member. What I can say is in watching him perform music, teach music, and experience music when we would go together to watch student recitals there was a joy in him in response," said Pignato. He said he'll never forget his brilliant personality, their friendship, and the great dedication he had toward his work.
Dr. Adam Kent, Associate Professor in the Music Department and dear friend of Dr. Newton, described him as someone who cared about people getting the recognition and appreciation they deserved through their work. "I think whenever he felt there was a kindred spirit, someone who shared his passion for music and music history, there's nothing he wouldn't do for them. I've never really had a colleague like this who put other people ahead of himself," said Kent. Dr. Newton served as Dr. Kent's mentor back in 2016. Throughout their time together, Kent came to learn of Dr. Newton's good and adventurous character. According to Dr. Kent, Dr. Newton was taking piloting lessons. He had even offered to take him up on an aerial tour of Otsego County.
Gone but never forgotten, Dr. Newton truly touched our Oneonta community and it's being seen to this day. Oneonta is celebrating and honoring his memory in many ways. Just last week the Division of Student Affairs hosted a memorial for staff and students to gather in the Fine Arts courtyard. Even after word of his passing, numerous students and alumni posted beautiful tributes to Dr. Newton on social media. Thank you, Dr. Timothy Newton. You will be missed.