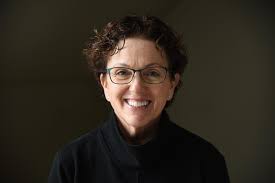 Lara Murray Sterzel, Staff Writer |
While students are closing their spring semester with a series of festivals and final exams, others are beginning the semester with opportunities to come. Marlene Pratt has begun by becoming the new SUNY Press Director, opening doors to a scholarly perspective and new book publishing in the SUNY system.
On Thursday, April 27, in Milne Library, faculty, and staff gathered to welcome Marlene Pratt to Oneonta and hear her plans in this new position. I got to interview Marlene Pratt about what drew her to the SUNY Press director position. She called it an opportunity for her to work across all operations of publishing. "I came from the Higher Ed Textbook publishing world, so I worked for big companies, and I was mostly in the health sciences. So about nine months ago, I was approached about this job. I saw it through and came here in January. I'm very happy to be here and to work with a small university press that has a mission of scholarship, research, and service to the SUNY system. They have great people, great products, and great work being done. I'm excited about its future," said Marlene Pratt.
Marlene Pratt graduated from Boston University with a bachelor's degree in political science and was planning on becoming a lawyer. Her first job was as an assistant with a consulting company. It wasn't long before Pratt found herself becoming enthusiastic about the evolution of books, publishing, and marketing. This led her to work for a couple of large publishing companies, which led to a rise in her career, and finally gaining this position at SUNY Press.
When Pratt was asked what she hopes students take away from her new position, she hopes it makes people think about the topics discussed in the books. She hopes that her work will help students to think critically about different texts. "That to me is what books should do for students, solicit learning and action from them. If we publish books that do that, one person, changing one person's perspective if you will, and making a change in the world," said Pratt. She also hopes to collaborate with students and faculty, giving them the ability to share their knowledge and resources with each other.
Marlene Pratt looks forward to working with Oneonta and engaging with the Press, already having plans on bringing large strategies. Pratt also looks forward to advancing opportunities to as many students as possible. "To me right now, the world is so interdisciplinary for things going on and the Press is in the position to talk about those things," she had shared. The one thing Marlene Pratt always encourages is for people to keep reading, finding it to bring both knowledge and creativity.