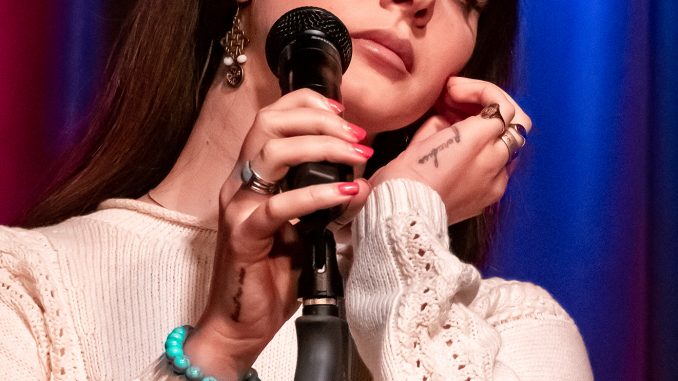 Christopher Milazzo, Staff Writer |
Lana Del Rey has released her ninth studio album titled Did You Know That There's a Tunnel Under Ocean Blvd. After the release of her two albums in 2021, Chemtrails over the Country Club and Blue Banisters, Lana Del Rey is back. Before the album was announced, we only heard from Rey when she was featured on Taylor Swift's hit album, Midnights,on the track "Snow on the Beach". Lana Del Rey is one of the most defining artists of this generation, making music that is poetic and artistic. She doesn't shy away from the poetic style of music on this album at all. This gives the the chance to focus all of your attention on her words and thinking about what she has to say. Rey is someone who has progressed with her music and isn't worried about releasing songs that just sound good instrumentally; she wants you to listen to her words and her words only.
One thing to note about this album is that most tracks are long. This is normal for Lana Del Rey, as most of her songs are longer than five minutes. I personally don't prefer longer songs. But when it comes to Lana Del Rey, I will listen to a long song if her name is on the track.
We open the album with "The Grants", where she discusses carrying the memories she keeps with her family and never forgetting them. I think this track is one of the most special tracks of her career because she dives into her personal life, and describes how much family means to her.
One of the more interesting tracks on the album would be "A&W". Not to get confused with the soda brand, this abbreviation stands for "American Whore". Rey splits this seven-minute track into two, with one half being a slow ballad about growing up, and the other half describing her problems with sex and how it consumed her life. When we move past the slow portion of the song, we are introduced to a slow beat and hear it transition into a faster beat. We can hear how she is trying to move past this problem she has with sex but is getting pulled back in by one of her lovers. It's a stand-out track on the album for me.
Two other stand-out tracks would be "Margaret" and "Peppers". "Margaret", which Rey collaborated on with long-time producer Jack Antonoff's band Bleachers, is a love letter to Jack Antonoff's lover Margaret Qualley. Rey and Antonoff have been friends and collaborators for years now, so this track feels like a gift to Antonoff for all the things he's done for her. The track "Peppers" is one of the sonically different songs on the album, and it's done with perfection. "Peppers"almost sounds like it would be a perfect fit for Rey's 2017 album Lust for Life, which was filled with tracks that had a trap beat and perfectly complimented Rey's style of singing.
Overall, I enjoyed this album. Lana Del Rey is one of the best artists of our generation and she continues to be album after album. I would rate Did You Know That There's a Tunnel Under Ocean Blvd 8.5 out of 10.